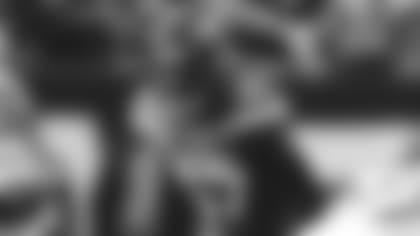 In Jeff Ulbrich's second season as defensive coordinator, his defense has made a massive leap from the NFL's worst scoring defense in 2021 to No. 4 in 2022, and as a result 3 of his standout players were rewarded with Pro Bowl selections – rookie CB Sauce Gardner, LB C.J. Mosley and DL Quinnen Williams.
The Green & White's contingent is the most of any team in the AFC and tied for the most in the NFL with the 49ers and the Cowboys.
Leading the NFL's No. 4 scoring defense, Mosley, a team captain, earned his fifth Pro Bowl selection and first with the Jets. He is No. 5 in the NFL with 142 tackles this season. In his two seasons under defensive coordinator Jeff Ulbrich, Mosley has made 310 tackles – his career-high in any two-season span and third-most in the NFL.
"That makes my heart happy," Ulbrich said about Mosley's selection. "Because there is no human within this game that works as hard as he does and is as consistent as he is and means as much to a defense as he does. For him to get the nod is huge."
Williams, the No. 3 selection in the 2019 NFL Draft out of Alabama, Williams was selected to his first Pro Bowl after being named an alternate last season. With two games left in the regular season, Williams has a career-high 12 sacks. Among defensive tackles, Williams was the top vote-getter among fans. vote-getter and Ulbrich said it was a no-brainer.
"I think that was the absolute, most obvious one," Ulbrich said. "I think really right now, he's probably playing as dominant as any defensive player, not just defensive linemen, in this league."
Gardner became the second Jets rookie to be named to the Pro Bowl joining S Erik McMillan (1988). Additionally, Jets legends RB Emerson Boozer (1966), QB Joe Namath (1965) and RB Matt Snell (1964) all were added to the AFL All-Star Game rosters in their first professional seasons.
"His talent from the day he stepped into this building has been undeniable," Ulbrich said about Gardner. "His approach is the stuff that I think impressed us the most. He approaches this game like a veteran already. So excited for him and his future and to think he made the Pro Bowl, and he is absolutely just scratching the surface of what he can become."
Gardner was also named a starter, the third rookie to start in the Pro Bowl and one of 13 defensive rookies to start the all-star event. His counterpart D.J. Reed was named an alternate. Ulbrich attributed a lot of the Cincinnati product's success to guidance from Reed – in his fifth pro season.
"D.J. has provided the greatest example that he could have had as a rookie," Ulbrich said. "As far as how to operate on a day-to-day basis as a pro because he does it at the highest level."
Despite being named an alternate, Ulbrich believes the veteran defensive back's deserved a nod but hopes Reed's standout season sets him up for future consideration as a starter.
"Sometimes he needs that exceptional year, which I would say this year was that for him, to get some offseason of some noise and some attention," Ulbrich said. "And then back that up with another stellar year and I think that's a no-brainer that he gets in."
See the best photos of the 2023 Jets Pro Bowl selections, including C.J. Mosley, Quinnen Williams, Sauce Gardner and Justin Hardee.