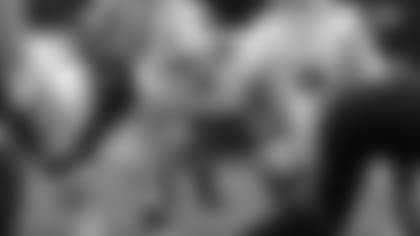 Joe Tippmann has a lot of things going for him in his new quest to fit in seamlessly at the Jets' center position.
There's his frame — at 6-6, whenever that first start arrives, he'll unofficially be the tallest starting center in franchise history. As part of that size, the Wisconsin mauler's hands measured 10¾ inches, second-largest among interior O-linemen at the NFL Combine.
Tippmann's physicality contributed to his second-round draft status. Two measures of that are his 635-pound squat and 455-pound bench in the weight room. Another is his almost spotless pass rush performance: one sack allowed in his last two seasons, 24 games and 590 pass-block snaps for the Badgers.
Yet two more factors rolled into one for Tippmann's promising future are the instruction he's received and his vicarious connection with the Jets, forged over the past dozen years from his connection with former Jets tackle Jason Fabini.
"He coached me from fifth grade through my senior year of high school," Tippmann said of Fabini. "He helped me with my transition from high school to college and he's helping me now with my transition from college to the NFL. I've always been kind of a Jets fan growing up with Coach Fabini. I can't wait to dive in and learn more about the playbook and the team."
"I didn't talk personally to Jason," general manager Joe Douglas said, "but he talked to a few people in the building and he absolutely loves Joe."
And Fabini, who worked with Tippmann through his scholastic career at Bishop Dwenger in Fort Wayne, IN, and at UW, confirms his feelings for his O-line protégé.
"I'm excited for Joe, and even more that he's going to be a Jet," Fabini told newyorkjets.com. He's a great kid and will work his ass off and compete."
Despite being predominantly a tackle, Fabini dispensed plenty of general knowledge to Tippmann over the years. He also played his HS ball at Bishop Dwenger, excelled at the University of Cincinnati, went to the Jets as their fourth-round pick (111th overall) in the 1998 draft, and immediately became a Green & White starter for his next nine seasons, at RT and LT. After his retirement as a player, he eventually returned to Bishop Dwenger as an assistant football coach in 2017.
All of Tippmann's smarts, toughness and reliability have paid off. He also brings with him to the pros his coachability and likability. And, after being a Jets fan from afar for so many seasons, before a single rookie minicamp practice, he already has an appreciation for Douglas' and HC Robert Saleh's version of the team from his Top-30 visit.
"I was able to sit down, meet the staff, and get a feel for the culture, something I enjoyed being able to do," Tippmann said. "Even back then, before the draft, I was excited about the Jets."
And now, Douglas said, he and the Jets are excited about working Tippmann into their operation.
"Joe's got excellent size, excellent feet, can bend, he's great on the move. With his athleticism, he can provide a lot of versatility to our interior, which has been a hallmark of ours," the GM said.
"And he's a fun guy to talk to. You can tell how passionate he is about the game. He's got a great personality, just a blue-collar demeanor, so he's going to fit right in."