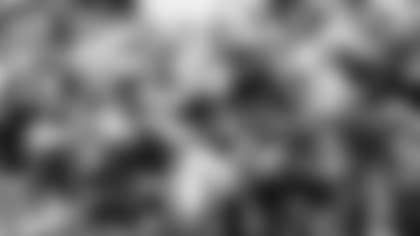 The Jets' off-Broadway opening night was a smashing success. Now they're taking their show to the Great Green & White Way, or at least nearer to Broadway than Detroit. What's in store for Sam Darnold and the Jets in their 2018 home debut against the Miami Dolphins at sunny MetLife Stadium on Sunday?
The players are certainly confident this week. But if it's up to Jets head coach Todd Bowles, the 48-17 win over the Lions will not swell any heads.
"It was only the first game," Bowles said. "They enjoyed the flight home. After that we're on to Miami. They're all short-lived, win, lose or draw."
The coach has a similar cautionary take when asked if the team has discovered its next "franchise quarterback."
"We won one game," he said. "I can tell you after about 100 more of them whether we have one or not. Right now it's a little early."
This is the second of the Jets' three-games-in-11-days start. That might be a disadvantage in some matchups. But since the Dolphins are coming off the longest game in NFL history — it took 7 hours, 8 minutes due to two lightning delays before they secured their 27-20 win over the Titans last Sunday — that should put the long-time AFC East foes on an equal footing as they battle for at least a piece of first place.
Here are seven more points of interest for Sunday's Jets-Fins-fest in the Meadowlands (1 p.m. ET kickoff):
1. Sam in the Clutch
What can Darnold do for an encore in his home debut before Jets Nation? One thing is to continue his "crunch"-down passing success. On third and fourth downs at Detroit, Darnold was 6-for-6 for 95 yards, six first downs and the long-ball TD to Robby Anderson. Small sample size, yes, but that still calculates to a perfect 158.3 passer rating. The last Jets QB to do that in a win: Chad Pennington vs. Seattle in 2004. Also, Sam could get back a key third-down target in WR Jermaine Kearse (abdomen), who was close to being activated for the Lions. Kearse led the Jets last season with 37 first-down receptions and 13 third-down conversion catches.
2. Sam in the Kitchen
Darnold can only do what he does if he's protected. In the opener the rookie got sacked twice in the first quarter, then wasn't hit the rest of the way. This week it's a different challenge for the Jets' O-line as the Dolphins will launch Cameron Wake (10th year with Miami, 92 career sacks) off one edge and Robert Quinn (8th year, first as a Dolphin, 62.5 sacks) off the other. Bowles' take: "When they've got four down rushers, those two will seem like they're rushing six. They pose a big problem." Wake has recently gotten woke regarding Green & White QBs, with 6.5 of his 10.5 sacks vs. the Jets coming in the past two seasons. Sam, beware.
3. Tannehill's Return
Miami QB Ryan Tannehill was impressed with the Jets from watching the MNF game live and again on the All-22 view. "The defense played really fast. That jumped out at me on tape," he said. "It's definitely something we respect and have to be prepared for." Tannehill similarly has the Jets' attention. Despite missing all last year with a torn ACL, Ryan no doubt remembers his way around the Meadowlands. He's 4-5 for his career vs. the Jets, but at MetLife he's 3-1 with an 84.7 passer rating. Then there's his scramble/bootleg/zone-read dimension. DC Kacy Rodgers: "He poses a lot of threats."
4. Running Men
Darnold didn't need to be told about rushing to greatness in the pros. "Whenever the run game is going, it's a lot easier to pass the football, that's how I look at it," Darnold said after Isaiah Crowell and Bilal Powell teamed Monday as envisioned to lead the Jets' 169-yard running game, third-best in the NFL. It'll be an interesting test between Crowell and Frank Gore, the venerable back who's joined Kenyan Drake as the Dolphins' own 1-2 punch. Cro, at 10.2 yards/carry in Game 1, and Gore, at 6.8, are two of the three RBs in the league who have played in all 49 regular-season games since 2015, and both have full tanks of gas in '18.
5. Defensive Numbers
What might've caught the eye of Tannehill, HC Adam Gase and the Dolphins offense? The Green & White had those five picks at Detroit — three by New Jack City (Mo Claiborne, Trumaine Johnson and Jamal Adams), two by LB Darron Lee. Lee's INT-return score ended the Jets' NFL-record defensive TD drought at 73 games, the five picks were their most since 1999 at Denver, and their plus-3 TO margin is tied for second in the NFL, the first time they've been in the top 10 since 2015. Also, after their preseason red zone defensive No. 1 ranking, the Jets are tied for first at 0.0% heading into Week 2. And Miami was 1-for-5 in RZ offense vs. Tennessee.
6. Myers' KO Mastery
Jets K Jason Myers says he likes kicking at MetLife, but he can't like it more than Ford Field, where he kicked off nine times Monday and nailed nine touchbacks. That obliterated the Jets' franchise record of six TBs in a game, shared by Bobby Howfield ('72 @ NE), Nick Folk ('12 vs. BUF) and Chandler Catanzaro ('17 vs. BUF). Myers' long-range mastery will be valuable against the Dolphins — the 'Fins lead the NFL in kickoff-return average after Jakeem Grant took one to the house last week, and while Drake hasn't done much returning the last two seasons, he did have the last KO-return TD against the Jets, that crushing 96-yarder at Miami in '16.
7. Tightly Fought Rivalry
Everything about these long-time rivals seems to be even-steven. The last 16 games of the series are tied, 8-8. The last 14 in the North Jersey: 7-7. Bowles (2-1 as the Dolphins' interim HC in '11), Rodgers (Miami's six-year DL coach) and GM Mike Maccagnan since coming to the Jets are 3-3 vs. the 'Fins. That's also the record of Mike Tannenbaum as Dolphins executive VP of football operations against his old team. As Jets GM, Tannenbaum brought Mark Sanchez to the Green & White in 2009. Nothing personal, but the Jets and their new first-round Southern Cal quarterback would love to send Mike T back to South Florida at 3-4.