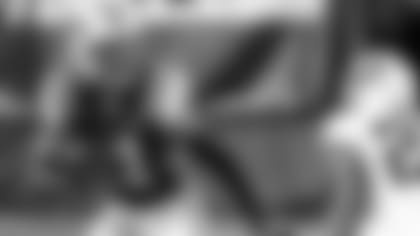 The Jets' first two two-game road trips this season, after their 1-1 start and after falling to 3-4 against Minnesota, had a similar goal, to get back over .500. The focus is different for the twofer that the Green & White start with their trip to Nashville to play the Titans on Sunday: end a five-game losing streak and rekindle that winning feeling as they head deeper into December and then into the offseason.
"Winning cures a lot of things," head coach Todd Bowles said of his message to his 3-8 team. "It doesn't make everything right, but it's a step in the right direction in cleaning up some small things so we can get better."
As of early Friday, Bowles hadn't revealed whether Sam Darnold (foot) or Josh McCown (right hand/back) will be taking the snaps on offense. Either way, winning won't get any easier these next two games, at Buffalo next week, a month after the Bills stunned the Jets at MetLife, following the Titans, 5-6 and fighting to stay in the AFC playoff hunt.
The Jets' coordinators say it won't be easy.
"They're powerful and physical," DC Kacy Rodgers says of Tennessee's offense. And OC Jeremy Bates says of the defense, "They're a physical team, they fly around the ball, they're an aggressive team. It's going to be a tough game."
Here are seven more points of interest about Jets-Titans at the stadium once called Adelphia Coliseum and LP Field and now known as Nissan Stadium (kickoff 4:05 p.m. ET):
1. Nashville Cats
Over the long history of this original AFL rivalry, the Jets trail the Titans/Oilers 23-19-1 in all games and 18-7 on the road. But since the franchise relocated to Tennessee, the Jets have fared better — 7-3 overall and 4-3 in Nashville. The first Volunteer State success was the Vinny Testaverde/Curtis Martin/Keyshawn Johnson-led 24-3 win by the Bill Parcells playoffs-bound team at Vanderbilt Stadium in 1998 and the most recent came at LP Field in 2014 by 16-11, the first of only two NFL games ever to end in that score. The Jets will take any old ugly final on Sunday so long as they have the higher number.
2. Mariota's Mixed Bag
A day after the Chargers' Philip Rivers set NFL accuracy records, Marcus Mariota didn't get nearly the attention for his 22-for-23 accuracy Monday night, mostly because of Houston's 34-17 win. HC Mike Vrabel: "Stats are stats. The loss is really what I'm trying to focus on." While Mariota went 7-for-7 on third down, the Titans averaged third-and-10.8 in converting four of 12. Also, Titans QBs are the most sackable in the league, yielding one every 8.8 dropbacks. Potentially good news for Jordan Jenkins, Leonard Williams (who sacked Mariota when both were rookies in '15) and the Jets' D, still No. 2 in opponents' 3-D conversion rate but with no sacks of Tom Brady.
3. Green Wall Rebuild
This could be a get-well game for the Jets' run defense, which vs. Buffalo and New England gave up back-to-back 200-yard rushing games for the first time since 2002. Dion Lewis hasn't followed up last year's 5.0 yards/carry success with New England, chugging along at 3.3 yards/carry. Derrick Henry is also running at a career-low 3.7 per pop. Even factoring in the elusive Mariota, the Titans are 29th in the NFL at 3.9 yards/carry. It's incumbent on MLB Avery Williamson, who spent his first four years with Tennessee, as well as Darron Lee, Jamal Adams and the rest of the tacklers to prevent the Titans from getting well.
4. QB Challenge
The Jets offense, whoever the QB, can expect tough sledding from the Tennessee defense and the Nissan fans. It was great that McCown led the Jets to a second-drive touchdown vs. New England, but the facts remain that they haven't scored an opening-drive TD all season and are being outscored in first quarters by 66-31, the minus-35 the lowest first-quarter margin in the NFL. The Titans, led by LB Wesley Woodyard, DT Jurrell Casey and LB Jayon Brown, had risen to No. 1 in yards and points allowed until falling back in two road losses, but they're still a tough nut to crack at home, where they've won 13 of their last 16. But there could be a bit of sunlight ...
5. Running to Daylight
It was heartwarming to see Lamar Miller blast off on his more recent 97-yard touchdown run, since this one didn't come against the Jets. Miller, fans will recall, roared that same distance for Miami in the 2014 season finale, the longest run ever by a Jets opponent. This time he did it for Houston against Tennessee on MNF. That bodes well for Isaiah Crowell, Elijah McGuire and the Jets, who've been trying to regain traction since that 323-yard steamrolling of the Broncos back in Week 5. Perhaps the Titans, who yielded 281 rush yards in all to the Texans to fall to 17th in the league in rush defense, are the ticket.
6. Thirsting for a Turnover
To state the obvious, the Jets would love to turn over the Titans. The Green & White have gone five games without a takeaway, the longest drought in team history. Tennessee's not impossible to take the ball from — they've lost 13 turnovers and have a minus-4 margin this season, and Mariota has eight giveaways himself (6 INTs, 2 FUMs). But at home it's a slightly different story. In those previous 16 games by the banks of the Cumberland River, the Titans have a plus-12 TO margin (9 GAs, 21 TAs) and have not had a minus game that entire time. Yet a Jets victory may depend on them prying the ball loose a few times.
7. Unexpected Connections
The most interesting player/coach connections for this game might be with the team the Jets just played. Ex-Patriots CBs Logan Ryan and Malcolm Butler are on the roster, and Vrabel tabbed his old New England position coach, Dean Pees, as his DC. One thing about Vrabel: He'll try the unexpected. After all, as an LB-turned-TE, he caught not one but two TD passes from Brady in the same 2005 game vs. the Jets. And in this year's home opener vs. Houston, Vrabel dialed up a fake punt that went for a 66-yard TD. The Jets must be on their toes for some trickeration on Sunday.