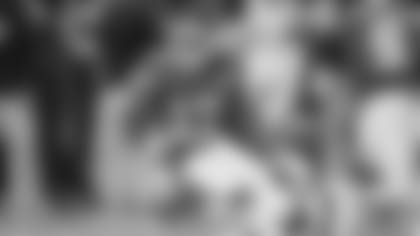 Throughout the offseason, NewYorkJets.com reporters Eric Allen, Ethan Greenberg, Randy Lange and Caroline Hendershot will each give their predictions to a series of questions regarding this year's Jets.
Today's question: Which Jets player do you think should wear the number 0?
EA: As a number, does zero mean anything or nothing? Neither positive nor negative, zero is a digit and can be used in several math problems. It's certainly unique and the NFL is following a practice in college football when the NCAA took that route with No. 0 in 2020. As of Friday's roster, burner Mecole Hardman Jr., a recent free-agent signee, fits the unique mold and would be an interesting choice. Hardman wore No. 4 at Georgia and that's currently being used by D.J. Reed. While Reed wore No. 2 at Kansas State and at Seattle, he might look good on the outside with No. 0. Defensive Rookie of the Year Sauce Gardner has No. 1 and Reed (5-9, 188) has excelled on the opposite side and he's a rare breed in terms of his fight on the outside. Kicker Greg Zeurlein, who wore No. 4 with the Rams and No. 2 with the Cowboys, has the leg strength to set the NFL record for longest field goal and that would be unique.
EG: The first person that came to mind for me is new Jets WR Allen Lazard, but that's probably because he hasn't been assigned a number yet. Lazard wore No. 13 in Green Bay, which is a retired number for the Jets (Don Maynard). He wore No. 5 at Iowa State (available), but I could see him rocking the No. 0. Something about being a big-bodied WR and No. 0 fits in my opinion. When the rule passed at the NFL League Meeting this week that players are allowed to wear the No. 0, a lot of Jets took to Twitter. Of the Photoshop edits the team posted on its social media account, I think RB Michael Carter and CB D.J. Reed looked like naturasl. Carter wore No. 8 in college, which is essentially two zeroes on top of each other. Reed definitely has the bravado on the field to command the new number, too. Maybe he would consider switching from No. 4 to No. 0 if new Jets WR Mecole Hardman wanted to go back to his No. 4, the number he wore at Georgia. I'm eager to see who will be the first Jets player in franchise history to wear No. 0.
RL: Like Nos. 1 and 13, 0 is a uniform number that requires a bit of self-confidence to pull off, unless of course you were Jim "Double-0" Otto. If it weren't a season too late, I'd say Sauce Gardner would have been a perfect Zero, as in Zone (where) Enemy Receivers (get) Omitted. But he's probably good to go for his career making No. 1 famous. Maybe someone like Chris Streveler, the way he eluded Jaguars defenders on QB keeps and draws in his only extended action with the Jets last season, would be interested. It would hint at "Now you see him, now you d-Oh-n't." But my choice for the first player in Jets history to wear 0 in a regular-season game will be newly signed WR Mecole Hardman Jr. He wore No. 4 at Georgia, then 17 with the Chiefs, so I don't know if he has a type-0 personality, but maybe going from two digits to one on the front and back of his jersey will make him even faster than his 4.33 speed and niftier than his first four NFL seasons, when he posted the second-best YAC in the game (8.3 yards after each catch), leaving Chiefs fans and opponents alike, after one of his electric jet sweeps or returns, sounding like the late, great Dick Enberg :"Oh, my!"
CH: At the NFL League Meetings earlier this week the owners voted to allow players to wear No. 0. A lot of Jets players took to Twitter expressing their interest in the number. While Mekhi Becton was interested and I think it would be great to see an offensive lineman in a single digit, they are still required to wear Nos. 50-79. The other player in green and white I would love to see wearing the zero would be Bam Knight. While Knight wore No. 27 last season, I think switching his number in his second year would be perfect. He was thrown into the fire as an UDFA and exceeded all expectations his first season. In his second season, I see him taking on an even larger role in the RB group. If he were repping a new number while really taking off in the run game, it would a perfect combination.