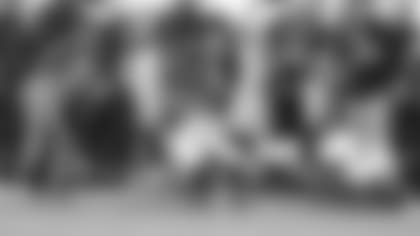 Second-year RB Trenton Cannon gave Jets fans a glimpse of what's under the hood in the team's 28-13 loss to the Saints Saturday night.
Like a high-performance car sitting in a garage, Cannon chomps at the bit to hit the open road and punch the gas. But in the third preseason game, the pro sophomore showed a newfound patience and improved vision as he totaled 51 rushing yards on six carries in addition to three receptions for 28 yards.
"My first year, that was the hardest for me," Cannon said. "My speed is what helps me, so that's one thing I learned to do — be patient and when and when not to use my speed."
On the first play of the third quarter, Cannon exploded for a 25-yard run after a Luke Falk handoff. As the hole up the middle closed in a hurry, the 5'11", 185-pounder bounced the run off the right side of the line and shot upfield where he was eventually tripped up by Saints S Chris Banjo.
"Going through my reads, I saw the outside and I knew I could beat the D-end," said Cannon, one of the club's three sixth-round picks in 2018. "It was open, so I took it and ran."
The next play, he gained 13 yards up the middle and put the Jets in plus territory. The 25-year-old had his number called two more times before K Taylor Bertolet connected on a 48-yard field goal that cut the visitors' lead to 13-10.
Cannon has relied on the other backs in the stable — or cars in the garage — to better his game and improve his craft. Using Le'Veon Bell as a resource may seem like a perfect match for the Virginia State product in regard to learning patience as a runner, but last year, ninth-year veteran Bilal Powell was Cannon's biggest asset in transitioning from DII to the NFL.
"I just watch him on the field, go back and watch it, and the next day in practice I try it out," Cannon said. "In the meeting room, if they see something that I can do better, they let me know — Le'Veon, BP, Ty, all the older guys. They'll let me know what I can do better."
Through three preseason games, Cannon has received a heavy workload while totaling 21 carries for 77 yards, eight catches for 54 yards and five kickoff returns for 112 yards. He's in line to be the Jets' starting kick returner Week 1 and is expected to remain a gunner on special teams after leading the club with 16 tackles last season.
Despite a limited sample size in game action, his teammates have noticed Cannon's progress throughout the summer.
"I've seen him grow in running back knowledge," center Jonotthan Harrison said. "Seeing him run, he's not just running and showing athleticism. Now, he's showing more patience, more vision, more awareness. That's why you're seeing bigger chunk gains from him. He's a hell of a player, hell of an athlete. Boy he's fast. He's shown great things this preseason."