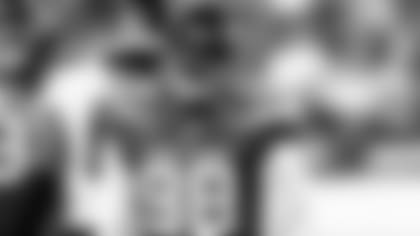 It takes a lot to get Kyle Phillips off-the-charts excited, which maybe is one of the secrets to the former Tennessee defensive lineman being the only Jets rookie undrafted free agent on their 53-man roster this morning and heading toward a pro debut in Sunday's season opener at MetLife Stadium.
"It's definitely something I wanted to accomplish. That was my goal coming from the draft to now was to make the 53-man roster," he told me after Wednesday's practice at the Atlantic Health Training Center. "I'm happy I got to accomplish that and I'm just ready to keep on moving forward and working."
That approach served him well as he showed he belonged through the offseason and the first three preseason games. Then in that often overlooked fourth summer game against the Eagles, Phillips may have won his spot with the first 2.0-sack preseason home game by a Jets defender since LB Calvin Pace in 2009, plus a third QB hit and two half-tackles for loss on running plays.
"It felt really good," he said after that game. "Definitely one of my big goals coming into this game was just working on my technique and making sure I got good pad leverage and get-off and things that our coaches have been teaching us all camp and throughout OTAs. I just tried to incorporate everything those guys taught me to help me elevate my game to the next level."
"I just think the body of work of kind of everything that we've done since we've been here, we felt like Kyle really earned his spot," head coach Adam Gase said. "That's what we're about. We're about the guys that do it the way that we need it done. Best guys are going to make the team."
Anything can still happen between now and gameday on the 53-man roster, and of course Phillips could be deactivated Sunday morning. But he could also be active and have a key role in pursuing Bills QB Josh Allen. Whatever happens, the 22-year-old from Music City (Nashville, TN) is line to become the ninth Jets rookie UDFA in the last 11 seasons to make the opening-day roster. Here are the previous eight since Rex Ryan's first year at the helm, with offensive, defensive and special teams snaps played in the opener:
Table inside Article

| Season | Player | Pos | Off-Def-ST | Opener Notes |
| --- | --- | --- | --- | --- |
| 2016 | Robby Anderson | WR | 4-0-0 | No receptions |
| 2016 | Jalin Marshall | WR-KR | 15-0-10 | 2 PR, 3 KOR |
| 2016 | Lawrence Thomas | DL | 0-28-12 | Start, 2 tackles, 1.5 TFL |
| 2013 | Ryan Spadola | WR | 6-0-13 | No receptions |
| 2012 | Damon Harrison | DL | 0-0-0 | Inactive |
| 2011 | Nick Bellore | LB-ST | 0-0-22 | 2 ST tackles |
| 2010 | Jeff Cumberland | TE | 0-0-0 | Inactive |
| 2009 | Jamal Westerman | LB | 0-21-17 | 2 tackles, 1 sack |
Whatever his role Sunday and beyond, the unflappable Phillips said it won't change how he approaches any game in green and white.
"It's business as usual. It's a game," he said. "You practice all week to get ready for gameday. That's our reward, playing on Sundays. I'm just going to approach it like I did every preseason game. Play hard, play smart, play tough, play together as a team."