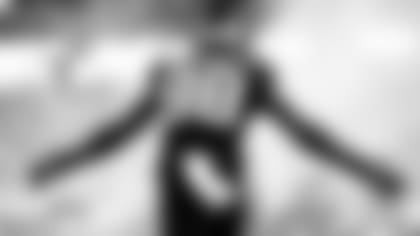 You can't spell versatility with T Y.
Ty Montgomery, a fifth-year running back/wide receiver in his first season with the Jets, would label his role on the field a little differently.
"I would describe myself as a football player hybrid," said Montgomery, who spent his first four seasons in the NFL with Green Bay and Baltimore. "I literally believe I can do anything. If they ask me to do anything, I believe can do it. If I'm not good at it initially, I'll get better at it and I'll end up becoming good at it."
Montgomery will have to end up becoming good at it wearing a jersey number not commonly seen in the offensive backfield – 88.
"Running backs aren't supposed to wear that number, and people who wear that number aren't supposed to be able to play running back at a high level," said Montgomery, who has rushed for 932 yards and seven touchdowns to go along with 107 receptions and three touchdowns in his career. "I believe I can pass protect, I can run the ball, I can catch the ball, I can run routes from the backfield, I can run routes from the receiver position.
"So, I see myself as a true hybrid and I believe this 88 at running back has sort of become my brand. Who is this 88 playing running back? Isn't he a receiver? I just feel like it's become part of my story."
An additional part of Montgomery's story will continue to be how he and another veteran running back and first-year Jet, Le'Veon Bell, will complement each other.
"When I think about that, it gets me really excited. Le'Veon is probably the best at what he can do. And for him to be a part of this offense, an offense that can be built around a running back that can do that, it suits me very well because I see myself being able to do the same things that he can do," Montgomery said.
"This offense is a great fit for me because it is built around people being able to do lots of different things, be it running backs or receivers. We're lined up anywhere at any given time being asked to do anything.
"I think that's one of the things that I love about (Jets head coach Adam) Gase. He doesn't seem to put his players in a box. And when (Bell and I are) in the game together, it should be even that much more explosive, that much more dynamic. That's the way I see it, I see it being really special. I see my role and I'm grateful for it."
A few months ago, Montgomery actually began keeping track of the things that he's grateful for when a friend suggested that he keep a gratitude journal.
"Gratitude helps develop your faith. Gratitude helps keep you positive. And just like you're training our body or you're training to run a marathon, you have to train your brain to think a certain way and then notice the beauty in certain things. It's an everyday thing," Montgomery said.
"It's all part of mental health. Getting into mental shape, I guess. I write in this every day, three things that I'm grateful for. And it has to be different. So, I can't say I'm grateful for my mom's smile one day and then four days later, say it again. And there's also a positive experience. Every day, I have to write down what is a positive experience from that day."