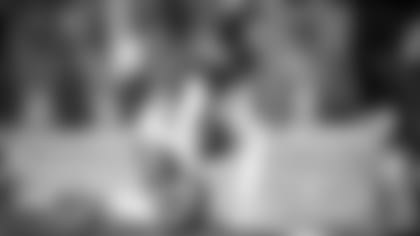 Jets wide receiver Robby Anderson, who let's say had less than tranquil offseasons the previous two years, spent this past offseason focused on looking out for number one.
"I feel like I took big steps in life. It's hard to pinpoint the biggest thing, but I feel that my offseason was very productive if you look at all the things I did," Anderson said. "I had multiple meet and greets. I got to meet my fans and was in a lot of the right places and where I needed to be, being around the type of things that I've created my life to be, and I've been blessed with.
"My mindset, my mental space, I'm peaceful, I'm happy. I separated myself from a lot of things and people that I considered friends and energy that really wasn't best for me, that was kind of tugging and pulling on me and holding me back. I was trying to make people happy by surrounding myself and still keeping them company, but you know the saying – misery loves company. I think separating myself from what wasn't best for me has had a lot to do with my growth."
Faster than hanging up on a robocall, Anderson has been New York's chief deep threat. The Jets added more weapons this year with the addition of veteran wide receivers Jamison Crowder from the Washington Redskins and Josh Bellamy from the Chicago Bears.
"It made me extremely excited. That's what I've been waiting for, that's what I've been wanting to be a part of. People that have that same passion and energy besides their talent, work hard and are true professionals. So, I've been extremely excited from the jump," said Anderson, who is in his fourth season, and led the Jets with 50 catches for 752 yards and six touchdowns last year despite missing two games because of an ankle injury.
"Bezo [Bellamy], man, he's one of a kind. That's my day one brother right there. I'm very glad that he's a Jet. Jamison, everybody's different, everybody's funny, down-to-earth humble dudes, but solid and real."
Anderson is encouraged when he looks around at the other wide receivers. He sees that solid and real group of men who all share a single goal.
"Everybody wants the same thing and that's to be successful," he said. "There's no selfishness in that room. That's one thing I can say. Everybody understands that they have their role, and everybody's willing to play that role. So, it's going to be exciting.
"When you have somebody that's selfish or somebody that tries to create controversy in the room and be complaining, that sets everything up for disaster. We don't have that. Everybody wants to win. Everybody wants to be successful. Everybody wants to embrace their role and bring what they can to the table."