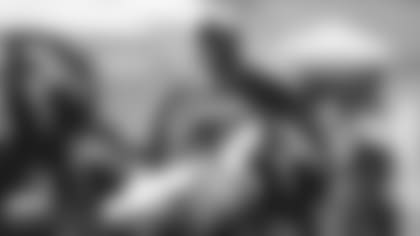 At 6'2", 315 pounds since the eighth grade, Joe Douglas is not unfamiliar with the word big. In June, he accepted the biggest challenge of his 20-year NFL front office career when he became the general manager of the Jets.
Having been a part of three Super Bowl championships – two while with the Baltimore Ravens as a player personnel assistant and as a national scout, and one with the Philadelphia Eagles as a vice president of player personnel, Douglas knows the type of players he wants with him in New York.
"This is a tough sport. This sport's not for everybody. It's demanding. It's physical. The psychological, physical, mental tolls that this game takes, it's a special type person that can handle it and do it at a high level," Douglas said. "You can't be successful in this game unless you truly love it. So, we need guys that are all in, that love this game and they're willing to do whatever it takes to win. Sacrifice for their teammates, sacrifice for their team and their coaching staff. Guys that are smart. Guys that don't beat themselves.
"At the end of the day you have to be able to control the line of scrimmage. You have to be able to impose your will on another opponent, and do it for 60 minutes. It takes a certain level of mental and physical toughness to achieve that."
By not making the playoffs since the 2010 season, it's fair to say that Jet fans have certainly had it tough, as well.
"That's definitely not lost on me," Douglas said. "Coming from (the Eagles) franchise that had never won a Super Bowl (until the 2017 season), and then coming here, seeing the passion that this fanbase has, and just looking forward to seeing it even more.
"Everyone in this organization, they deserve to feel the confetti fall when it comes to the Super Bowl. There's a lot of good feelings in life; getting married and having your first child, that moment's definitely up there. When you're looking up in the sky and it's just confetti everywhere and every piece of confetti is cut out to look like the Super Bowl trophy.
"That's what we do this for. This is why we work endless hours. This is why we travel thousands of miles away from home. This is the specific goal, to have that feeling that you've reached the mountaintop of your profession. We're going to do everything we can to make sure this fanbase has that feeling."
A two-time all-state offensive and defensive lineman while at Lee-Davis High School in Mechanicsville, Virginia, Douglas went on to start 45 consecutive games – from the opener in his redshirt freshman season to the final game of his senior year – and be named All-Atlantic 10 as a tackle at the University of Richmond.
Douglas, a team guy since he first tipped the scale at a few hamburgers over 300, worked with Jets head coach Adam Gase while with the Chicago Bears during the 2015 season. Gase was their offensive coordinator and Douglas was the director of college scouting.
"I'm an old offensive lineman. I've played O- and D-line my entire life. We're used to not getting singled out unless we screw up," he said. "But then at the same time, it's not about individual success, it's about making the quarterback look good. It's about making the running back look good. It's about making the team look good.
"It's going to take all 63 players, with 10 guys on the practice squad and the 53 (-man roster). It's going to take the entire staff, coaching staff, personnel staff, football ops, business, marketing. It's going to take everybody to get to where we want to go. It is the ultimate team sport. Eleven guys have to be on the same page and work together as one (when they're on the field). That's what makes it such a beautiful sport."