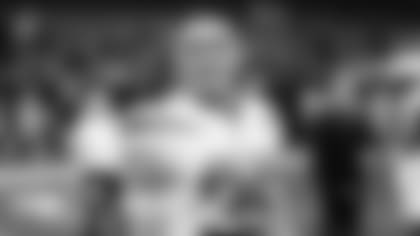 Playing professionally for five years, Valentine Holmes was a star for the Australia National Rugby League's Cronulla-Sutherland Sharks, and helped his country secure a World Cup as a member of the national team in 2017. He sought a different challenge this year.
And having never played football and deciding to try out for the Jets through the NFL's International Pathway program, yeah, he found one.
"The opportunity had come up for me," Holmes said. "The International Pathway were really interested and wanted to get me over and see what I can do. They had confidence in me that I could make the transition across to American football. But I had a lot to think about. My wife, and obviously my teammates and the club that I was with had been really, really good to me and had given me pretty much all I had. So, it was a really big decision to make.
"I just wanted to challenge myself as a person and an athlete. I've always admired the guys over here at what they can do on the field. Obviously, I knew it was a different sport in a totally different arena. That was the main reason. I feel like I had achieved a lot in the time I'd been playing rugby league.
"One thing I kind of live by in my life is to not have any regrets. And I kind of knew with this opportunity that came up for me that if I didn't take it, I would have regretted it my whole life."
Over 9,500 miles from his home, wife, family, friends and the only life he has ever known, what has the past few months as a Jet been like for the rugby winger turned football running back?
"It's been like a roller-coaster, I guess. It's been real fun, really exciting just to meet some of these guys who I used to watch or even play with on Madden. To be able to share a locker room and rub shoulders with them is pretty cool," Holmes said.
"You always see what happens on social media about teams and stuff. It's actually cool to kind of be a part of it and see how hard they really work and what really goes into being a professional athlete in America. It's been great. It's obviously been pretty hard learning the playbook and picking up those kinds of things, but physically, it's not too bad, not too much of a difference."
Of course, Holmes' fellow running backs knew there's a difference between the two sports. But what they didn't know was how much success he has had playing rugby.
"I don't know if (Ty Montgomery) saw my Instagram or maybe looked up some of my clips on YouTube, but he came in the other day and said, 'I didn't know you were actually that good in Australia. You weren't the Tom Brady of Australia, were you?' They just were kind of surprised where I came from and what I gave up to come over for something like this just because they don't know kind of what it was like to play rugby," Holmes said. "Everybody here thinks rugby is really, really tough and hard. Like it is. You don't wear pads and a helmet, but the contact you get here with safeties and stuff flying in at you is pretty scary to see.
"They've embraced me as just one of the boys. They've helped me out every day in what I needed to learn, whether I've made a mistake in the classroom or on the field. They're always there willing to help. It's cool to see because obviously everyone knows it's a competitive sport and we're all fighting to make the team. The way they've helped me throughout this training camp and preseason's been unreal and I wouldn't be where I am at this point without them."
Seeing action during the Jets preseason, Holmes has an appreciation for what he's experiencing now by looking back at what he has experienced in the past.
"This time last year I was just playing what I know and what I loved. It just came second nature, and a year later I'm doing something totally different," Holmes said. "This is what I made the decision to come over for and what I've been training my backside off for. It's still a fair way away until that team's named, but if I do end up making it, I'll be over the moon. I'll be pushing every day just to try and stay on that 53 (-man roster) and to try and hopefully play week in and week out with the boys.
"It's a really good club and I'm really excited to be here. It would just obviously be a dream come true (to make the team) It'd be exciting. Exciting times."