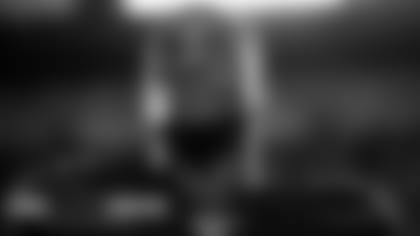 If Jets running back Le'Veon Bell ever needs anyone in his corner, a sounding board, he wouldn't do any better than Pro Football Hall of Fame and former Jets running back Curtis Martin.
"I think that he has the ability to be one of the best running backs ever. You're not going to find too many guys in the history of the NFL who are more… just gifted than he is," Martin said. "Le'Veon is equivalent to a good wide receiver in the NFL. You take a starting receiver and you couple that with one of the most talented running backs in the NFL, I think you have such a combination that is so beneficial to a young quarterback because running backs are always that option when you don't have any options."
"(Martin's words) means everything in the world to me just because I think that he is one of those players that helped me mold my game to where it is," Bell said. "I grew up liking the Jets because of Curtis Martin. And to hear that from him, that praise from him, I'll take it as an honor."
Following five years with the Pittsburgh Steelers and one year out of football because of contractual reasons, Bell, a two-time first-team All-Pro and three-time Pro Bowl running back is in his first season with the Jets. The same team he followed as a kid because of Martin.
What does it mean to Bell to put on the Green & White uniform?
"It means a lot," he said. "I kind of look at it as a new start. I come here, I've got new teammates, new coaches, new city. I feel like everybody's embraced me in a positive manner, and I love it.
"So, it really means everything in the world to me, and that's why I want to do everything I can to just make sure I'm the person everybody wants me to be and more because I want to deliver and give people what they want.
"I know a lot of people are looking at me and counting on me. I don't want to let people down."
Or let himself down. Bell is aware of those who suggest that the second phase of his career, his time with the Jets, won't be as successful as his past. He's heard it before. This is just the latest criticism that he'll use as incentive.
"A lot of people, naysayers, they say, 'Oh, the second half, it's not going to be as good.' You owe it as a player, for me personally, I always had something new to use to use as a chip on my shoulder," Bell said.
"In high school, 'He was a two-star recruit. Other guys were a five.' I use that for motivation to try to be a better player. Coming out of college, I wasn't the first running back taken (in the draft), so I used that for motivation to make me the player I am today. I always find whatever it is that people think I can't do, and I'm like, 'OK, I'm going to show you that I can do it.' That's what type of player I am. That's what I want to be."
And that's the type of player he wants to be for the fans who have supported the Jets. They all share a hunger of being in the playoffs and more.
"I feel it. I feel it like no other," Bell said. "Everywhere I go, if I'm in a restaurant or if I'm in a mall, when people see me, I can see the hope, I can see the excitement in everybody's eyes. That's why I want to deliver. I want to be a person to kind of help change what's been going on, the culture. We need to get back to that. I know where we can go.
"I'm excited about the whole situation, the whole scenario, being in New York, playing in front of New York fans. I understand."