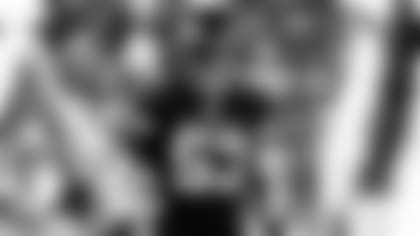 The bio across the top of Blake Cashman's Twitter page is telling.
Don't tell me the sky is the limit when there arefootprintson the moon... I'll let you know when I land
Clearly focused, the rookie linebacker has tried to be as grounded as the flag planted on the moon by the men who left the footprints since he was a senior at Eden Prairie (MN) High School and contemplating his next step.
"I was really torn between football and basketball," Cashman said. "And when it came down to it, I had a lot of small schools offering me (a scholarship) for football. Some offered me for basketball, as well. It was tough for me because I didn't know really what sport I wanted to do and where I wanted to go.
"So, I was sitting there senior year making my decision. There was a third of me that thought about just getting a brand-new experience and not even going to school to play any sports. Another part of me was thinking about going to a small school, the University of St. Thomas, and I was going to play both football and basketball.
"But then the (University of) Minnesota Golden Gophers came calling and that really just hit me right away, that opportunity to walk on there and see what I could do. See what I could make of myself."
Beginning as a walk-on, Cashman would earn a scholarship, a spot in the starting lineup, and the right to realistically think about playing in the NFL.
"I would say my sophomore year was when I realized I would have an opportunity at the next level," Cashman said. "I started off on special teams and I was playing well, and then after about four or five weeks into our season, I started getting really comfortable with our defense and started getting more and more snaps on defense, not just special teams. And as I was getting those snaps, I started making a lot more plays. Big plays like sacks, forced fumbles, and I was having a lot of fun doing it.
"It almost felt easy to me a little bit, and I was like, 'Wow, if I continue to work hard, continue to follow this track that I'm on, I'll have a good opportunity, a good chance to play in the NFL.'"
After totaling 183 tackles, 12 sacks, seven passes defenses and two forced fumbles at Minnesota, and turning heads at the NFL Combine, Cashman was selected by the Jets in the fifth round, 157th overall, and has continually made strides learning and performing in veteran coordinator Gregg Williams' defense.
"What's really stood out the most to me is being around these vets, being around these coaches that have been in the league for a long time," Cashman said. "And how much knowledge they have in the game. I feel like I'm learning so much and just picking up on things that I wasn't even aware of in high school or college.
"(Sixth-year veteran and first-year Jets linebacker C.J. Mosley's) very real and he's going to say it how it should be. He's not going to sugarcoat anything; he gets right to the point, which I love and respect just because he's seen it all, he's been through it all. We'll be watching film and it's not just Coach (Frank) Bush up there coaching, it's C.J., as well.
"It's just kind of a different perspective. He's out there and he may be hearing things that go over my head just because I'm not aware of what calls the offense made. I'm so focused and locked in on what my job is, just knowing my assignment. But he's such a more experienced player, a smarter player that picks up on those little things that he can just throw out the means to help you become not only a better player, not only a smarter player, but someone that can react faster and adjust."
"I love this defense because it allows me to use my strengths to all my abilities. I'm somebody that loves to run sideline to sideline. I love to cover, especially in man coverage. Coach Williams, he's an aggressive defensive coordinator, he wants to get after offenses. I feel like that just fits my personality. I like to get after it, be that gritty player, show aggression early, and I think it can disrupt offenses early, too."
From when he was in high school and didn't draw the attention of more than one Division I school to when he accepted the challenge of being a walk-on at Minnesota, many mistakenly underestimated Cashman's abilities on the gridiron before he made his way to New York and put on a Jets uniform.
"I see it as something that's very motivating for me. I feel like no matter what I've done or what I've achieved, everybody always puts a ceiling on what I'm capable of doing," Cashman said. "It gets frustrating to hear that and see that sometimes, but at the same time it just keeps on pushing me to keep on proving people wrong.
"It's going to be exciting this year just because I think I have great coaches and players getting me ready for this. I feel like I'm already learning and progressing on the field really fast. So, in my opinion, the sky's the limit and I think I might surprise some people."