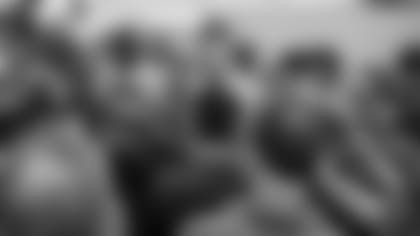 Here are nine top quotes from the six selected Jets players who visited with reporters today upon reporting to the Atlantic Health Jets Training Center for the start of 2018 training camp:
WR Jermaine Kearse on how competitive rookie Sam Darnold will be in the QB competition...
"I have no doubt Sam will have the same attitude, the same mindset from OTAs coming into camp. As far as how competitive he'll be, you gotta ask him. But I think he will be competitive, I think Teddy [Bridgewater] will be competitive, I think Josh [McCown] will. I think all those guys will have the competitive mindset. From talking with Josh, I know he's a competitive guy. I've had conversations with Teddy and I know he's highly motivated. So I think it'll be a really good round of competition at every position. This is going to be a very telling year for us."
C Spencer Long on how the QB competition might affect him...
"It doesn't, really. I just do my job. Obviously it's going to be a different voice yelling out the cadence, but other than that, everything should be pretty operational with each guy."
DL Leonard Williams on if he has to step into a greater leadership role this season...
"There's definitely guys on the team that are older like Steve McLendon and Josh McCown and a lot of older guys that people respect on the team. I don't necessarily think it's a role I have to step into. I think it's just a role that ends up coming with you and just naturally gets developed. And I think I have a lot of respect from my teammates on how hard I work and stuff like that, so when I do say something, they respect it."
DL Steve McLendon on improving the defense's communication this season...
"It's just like a choir, man. You've got to keep practicing. ... When I was younger and I was in choir, we'd go in, it was like a Tuesday or a Wednesday, and we'd repeat the same stuff over and over and over. On Sunday we were able to stand up in front of everybody and sing. That's all we have to do."
McLendon on if he's feeling like his 32 years of age ...
"You're looking at the age. I'm looking at me. I look good. .... You'll see it, you'll see it. Less words, more action."
G Brian Winters on returning after playing most of last season with an abdomen injury...
"It's a relief. It's awesome. It's great to be healthy. Last season was very hard for me and it kind of sucked. But I'm looking forward to this season."
CB Trumaine Johnson on advice he could offer suspended CB Rashard Robinson...
"Stay positive, for sure, stay positive. If you need me, talk to me about it. I was in that similar situation, I didn't get suspended, in my first year. Just stay positive, man, and move forward from it, and know we're here for you."
Long on moving from Washington, his team for four seasons, to starting camp this year with the Jets...
"It's exciting. New place, new team, new opportunity. I'm jacked and ready to go."
Winters on the vibe around the Jets at the start of camp...
"Everyone's excited, everyone's bought in as far as the offense. I think we've got great things going as a team. Everyone's just excited to be here. I can see the atmosphere has changed. The season's going to be great."