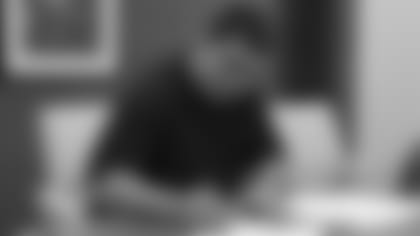 Unrestricted free agent Breno Giacomini, the Seattle Seahawks' starting right tackle for the past 2½ seasons, including in Super Bowl XLVIII last month at MetLife Stadium, agreed to terms on a contract with the Jets tonight at the Atlantic Health Training Center in Florham Park, NJ.
"On the outside looking in, I liked the way the Jets' defense played and Rex Ryan, the way he goes about his business," Giacomini told me late this evening at the training complex about what attracted him to the Jets.
"On offense, we're going to get better, and I'm just happy to be a building block to those Pro Bowl guys [D'Brickashaw Ferguson and Nick Mangold] on the offensive line and hopefully I'll just fit in."
Giacomini, in his Boston accent (he hails from the Malden/Cambridge area of Massachusetts), explained that today was a "pretty long day" but a pleasurable one.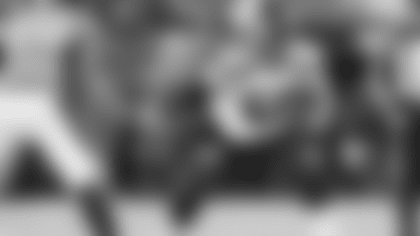 "I left Seattle last night on the redeye, got right in here, got some breakfast, and the day kind of started off with the tour of the facility. I don't mind seeing everything before you finalize the deal," he said. "I already played on this field a few times that the Jets call home. Looking at this facility and meeting with the owner, it was a pretty cool day."
Giacomini joins our offensive line less than a day after Austin Howard, our starting right tackle for the past two seasons, traveled to Oakland and signed a multiyear deal with the Raiders.
Giacomini (6'7", 318) has traveled a similar pro path to Howard, getting off to a slow start before his career picked up speed. He started out as Green Bay's fifth-round choice (150th overall) in the 2008 draft out of Louisville, but played in only one game that season and none the next two years.
He was acquired by the Seahawks from the Packers' practice squad on Sept. 28, 2010, released a month later, then re-signed in the offseason.
Breno Giacomini started Seattle's 2011 opener, then took over the right tackle spot for Pete Carroll's emerging power for the final seven games that year.
He then started all 18 games for the Seahawks, including the playoffs, in '12 — John Idzik's last season in the Seattle front office before becoming the Jets general manager — and started 12 games, including the Super Bowl, last season. He missed seven midseason games while rehabbing from knee surgery.
"It started with John Idzik in my past," he said. "He's been a bit of an influence for me in the football world."
In all, Giacomini started 37 games at RT for the Seahawks in the past 2½ seasons, including five playoff games, and those included one exceptional 43-8 victory over the Denver Broncos in the NFL's championship game.