Damon Harrison continues to reign in the middle of the Jets run defense, and he and his front seven mates hope to rain on New  England's rushing attack, whatever approach they choose.
"I would expect them to try to come out and establish the run," Harrison told me this week, "especially after the game we had last week at Dallas, when they were having some success on the edges running against us.
"But that's yet to be seen. We thought the same thing the first time we played them and it was the total opposite."
That game on Oct. 25 was the first time this season that the Jets set the franchise mark for rushing yards allowed in a game when the Patriots ran for a mere 16 yards. (The record was reset to 12 yards against the Dolphins.) Of course, the Pats had something to do with deciding to run nine times and drop back 57 times in their 30-23 win.
But if they try to run between the tackles on Sunday at MetLife Stadium, they'll run into "Snacks." Even Patriots coach Bill Belichick was asked what stands out about the Jets D, and among other things, he said:
"I think Harrison has had a great year. Really hard to block, very disruptive."
Here are two measures of Harrison's disruptiveness.
1. Tackles for Loss/No Gain
He's been throwing his weight around all year in totaling an unofficial Jets-leading 12.0 tackles for loss/no gain. Factor out the zero-yarders and his 6.5 TFLs are tied with rookie Leonard Williams for the team lead.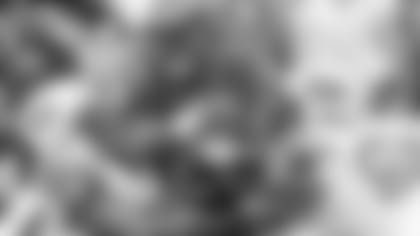 Harrison's riding a hot streak, having forced opponents into six 10-yard penalties this season and one hold in each of the last four games (against the Dolphins' Jamil Douglas, the Giants' Weston Richburg, the Titans' Andy Gallik and the Cowboys' Zack Martin). For the last such four-game penalty streak by a Jets D-lineman, we have to go back to John Abraham at the start of the 2005 season. As for interior linemen, Harrison's streak is the longest in the last 20 years.
Is the fourth-year nose playing the best football of his career. Harrison said he thinks so, giving an assist to the un-December-like temperatures we're having.
"This is the time of year when I tend to slow down. It's usually cold. But we've been blessed with good weather the past couple of months, so I'm able still get a good sweat in," he said. "That'll be big for this game, too."
No matter how the Patriots plan to run.
Make a game-changing pass in primetime, then prepare to play your former team the next week. That's a recipe for media attention, and so it was today with WR Kenbrell Thompkins surrounded by Jets reporters after practice.
Thompkins has been a Patriot for two short stints. As an undrafted rookie in 2013, he caught 32 passes for 466 yards and four TDs. He was waived after Game 3 last season, went to the Raiders, returned to the Pats' practice squad early this year, then was released again before coming to the Jets.
"They're all great guys over there," Thompkins said of his ex-teammates. "It's a great organization, a great team, very well coached, and they do a lot of things well over there, which explains why they're in the position they're in."
But now, after his 43-yard catch-and-run to set up the go-ahead field goal against the Cowboys, Thompkins is in position to help do some damage to his original NFL team. He's thankful for the opportunity (he was inactive for Game 6 at Gillette Stadium) but isn't overplaying the importance of his big reception.
"It was just a catch," he said. "If you ask me, I feel like I have a lot more in store. Fortunately it was a great catch for our team, it set us up for a game-winning field goal. But other than that, I feel I have a lot more to show."