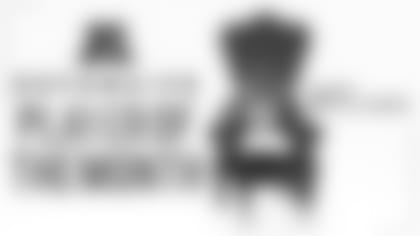 Jets LB Quincy Williams has been named the AFC Defensive Player of the Month for October. In four games, Williams registered 45 tackles, 6 tackles for loss, 2 sacks and a forced fumble that was returned for a touchdown.
"I couldn't be prouder of him and his hard work," LB C.J. Mosley said of Williams. "He is one of the fastest linebackers in the league and I always try to ask him, do you watch your cheetah videos in the morning or before games? Do you ever see a cheetah just run as soon as it sees its prey? Nah, he is calculating every single step, he is trying to see which way he is going, and as soon as he sees that spot, he is hunting this season."
HC Robert Saleh added of Williams: "I'm so proud of him. You talk about the players that get thrown away and they try to find their way. He stuck to it, kept his head down, kept working and he's found his way and we're very fortunate that we have him."
During the Jets' three-game win streak to end the month, Williams came up with several key plays. In the fourth quarter of the Jets' Week 5 win, 31-21, over the Broncos, Williams became the first Jets defender to register two sacks in the final 2:00 since 1991. On his second sack, he chased down QB Russell Wilson, knocked the ball loose. It was returned by CB Bryce Hall for a game-sealing touchdown.
In the Jets' 20-14 upset victory over the Eagles in Week 6, Williams led the team with 12 tackles and recovered a fumble that was forced by Mosley on RB D'Andre Swift.
"The approach that he took this offseason and pretty much since he has got here, he has just been getting better," Mosley said. "Just learning the defense, understanding how the offense is trying to attack us and understanding his job. Not only that, now he is at the point where he is understanding the other 10 positions, which can make your job a lot easier."
Among the league leaders, Williams is tied for No. 12 in tackles (71) and tied for No. 11 in TFLs (8). Also improved in pass coverage, Williams has 6 pass PDs, which is second most among linebackers.
"It's year three in the scheme, trusting my teammates and my coaches, so when they call the play, I'm just doing my job," Williams said. "Then like I said, working out with C.J. during the week so we see the same thing, we talk the same language, and we are on the same page."
In addition, Quincy's younger brother, Jets DT Quinnen Williams, won the same award last season for the month of October.