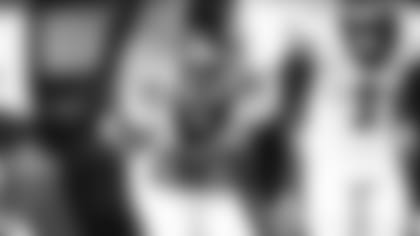 Life on the Jets has been a numbers game for cornerback Michael Carter II. For starters, he is now the only player named "Michael Carter" on the club, so is he still MCII? Whether he's No. 1 or No. 2, what is certain is that he is among one of the best Gangs of Three playing cornerback in the NFL.
Along with D.J. Reed and Sauce Gardner, the Jets' defensive backfield has led the way for a unit that just held opponents to the fewest net passing yards (224) over three games in franchise history.
"Pretty cool stat," Carter said. "We did it together with this unit. We've been together for a while and it's cool to have everyone grow in leadership in the culture into who we want to be. The bond we've built together is cool, to be able to put that special thing on tape on Sunday's ... it's awesome."
By most metrics, Carter is among some of the most underrated players in the league, though he's far from unnoticed. Last season, when QB Aaron Rodgers and the Packers were preparing to host the Jets at Lambeau Field, Rodgers said he was champing at the bit to exploit Carter.
"I remember last year when [the Packers] played the Jets, we felt like we wanted to get after MC," Rodgers said earlier this year. "After the game, I think everybody was like, 'He's a pretty damn good player.' "
In that game, won by the Jets, 27-10, the Green & White defense sacked Rodgers 4 times, gave up a single TD pass and limited the team's new QB to an 88.1 rating. In the game, Carter II made 5 tackles.
"I believe we do have the best trio in the league, Sauce, D.J. and myself," Carter said. "We're trying to be the best and best for each other. We push for each other. Everybody wants to be successful and feed their families. No one wants to be average. We strain to finish and want each other to be the best we can be."
Rodgers' comments could hardly be higher praise for a guy drafted out of Duke in the fifth round of the 2021 NFL Draft who was little known but is now one of the Jets' Three Amigos in the defensive backfield. Nothing flashy, but Carter has quietly emerged as a linchpin in the scheme authored by defensive coordinator Jeff Ulbrich.
Speaking about his three DBs, Ulbrich said: "They thrive when it's the elite guys, and I really believe they approach each guy the same way, but there's a little bit, not necessarily they're picking their game up, but maybe a little more excitement for an opportunity to demonstrate that they're one of the best."
That will need to be the case in Sunday's late afternoon visit to Orchard Park, NY, to play the Buffalo Bills and deal with QB Josh Allen and WRs Stefon Diggs, Gabe Davis, Khalil Shakir; and TE Dalton Kinkaid.
"With him [Diggs] he's quick, has explosive ability and he's in tune with Josh," Carter said. "When things go off schedule, his ability to get open, however he wants to do it ... he's really good with that. Just trying to limit him, stay plastered and don't be afraid to get hit in the back of the head with a ball. Keep your eyes on him and help finish plays."
As dangerous as Diggs is and can be on the outside, he also is dangerous in the slot, which puts him smack dab on Carter's radar.
Over his three seasons in this defense Carter has totaled 169 tackles, 11.5 tackles for loss/no gain, 5.5 tackles for loss, and 15 tackles on third and fourth downs to prevent a conversion. All those totals lead Jets corners from 2021-23 (bearing in mind that Gardner and Reed didn't join the team until the 2022 season). In '22, he was fifth on the Jets and first among corners in the third- and fourth-down stops with 9 tackles, which is quite impressive for a nickel corner who played three-quarters of the defensive snaps.
As he prepared for his third season in the league, Carter said he studied other elite nickel cornerbacks, including the Bills Taron Johnson.
"I'm not going to lie, I take a lot from a lot of different nickel corners," Carter said. "Kenny Moore [of the Colts] and Taron Johnson, too. He's really good in coverage, always around the ball and forced a fumble last Monday [in a loss to Denver]. I think I really watched his tape and how he played man coverage, I took some pieces of his game to make myself better in that area. He's a really good nickel."
This season, the entire Jets defense has been adept at adjusting to the opposition, particularly in the second half when the Green & White is ranked No. 2 in the league having allowed a mere 6.4 points a game. Those adjustments could be critical on Sunday after the Bills replaced OC Ken Dorsey with Joe Brady after last week's loss.
"I think Buffalo is still an explosive offense, they got receiver running backs, one of best quarterbacks in the league, wide receivers," Carter said. "They're going to stick to their guns, and we're going to be who we are true to ourselves. It's detail, detail, detail, the little things that give up explosives -- tackling. It's really about us being sure to execute to the best of our ability. The things they'll throw at us, we'll be prepared for it. If not, we'll be able to adjust."
See the Jets back on the practice field on Thursday during Bills week.