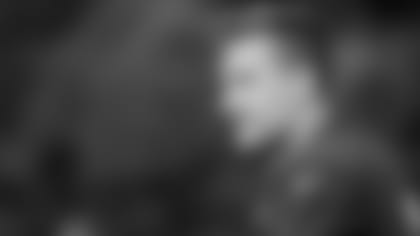 For a long time, the Jets were spoiled at the placekicking position. They found an eventual super kicker in Jim Turner early on, secured Pat Leahy's services for darn near two decades, and got decently long tenures from John Hall and Nick Folk.
Even as the Jets looked at multiple kickers the previous two summers, they decided on good answers. Chandler Catanzaro in his first Green & White incarnation was very good in '17 and Jason Myers was excellent last year.
This year the kicker situation hasn't resolved itself yet. Sam Ficken politely suggests that he can be the footman to do just that.
"I think that would be the wrong way to approach it," he told reporters today after his first Jets practice about having a mindset that he's just joined a team going through instability at his position. "I try to go in and just be myself. I'm hitting the ball really well, I'm confident in my swing. These guys had a great first day with me, I'm confident in their operation, and we'll make the most of it."
On the surface, Ficken has had about as much experience kicking at the pro level as Kaare Vedvik, who was waived after his two-miss game in the opener vs. the Bills. The former Penn Stater's official experience is a mere four games for the Rams in 2017 and '18, during which he converted three of six field goals and 14 of 15 extra points.
But Ficken's been doing the placekicker polka since he broke in with the Jaguars in 2016. He made stops with the Chiefs and Rams, then had a short offseason stay with the Seahawks, and finally 4½ months with the Packers until he was a final cut on the last day of August. He couldn't unseat Myers in Seattle nor Mason Crosby in Green Bay, but he put his best foot forward this summer as a Packer by nailing his only FG try, a 41-yarder, converting all five XPs, and gaining touchbacks on four of eight kickoffs (Crosby was 1-of-6).
"I had a great preseason. Unfortunately, it didn't work out in Green Bay, but I think they've got a really good guy there anyway," he said. "I hit the ball well, had a good tryout and had a good first day here. My plan is to take it day by day and don't get over my skis."
Jets head coach Adam Gase said Ficken did better than just "hit the ball well," saying his new kicker "made all of his field goals in workout."
Gase also exhibited a little devil-may-care approach after promoting Vedvik last week.
"I'm going into it with confidence, that he'll do a good job and that he's the right guy for us," the coach said. "I have to give him a shot, I have to give him a shot to go out there and execute. That's what we're bringing him in here for."
If good omens mean anything, maybe Gase, special teams coordinator Brant Boyer and the Jets have found their man. Ficken started his Penn State career shaky but finished it as strong as a Nittany Lion, becoming automatic and being named All-Big Ten kicker as a senior.
For his last game, the Lions played in the 2014 Pinstripe Bowl in Yankee Stadium and set up in the Yankees' clubhouse. Ficken happened to draw Derek Jeter's locker after Jeter had finished his career with a walkoff homer at the stadium a few months earlier.
All Ficken did was hit the game-tying 45-yarder with 20 seconds left to send it to OT, then nail the walkoff extra point in Penn State's 31-30 win over Boston College.
"Like I said, I'm hitting it pretty well right now," he said about his present-day performance. "I'm confident in myself."
His new teammates, his new head coach and his new fans are hoping the confidence kicks in for everyone, beginning with a little no-pressure affair called Monday Night Football against the Browns.