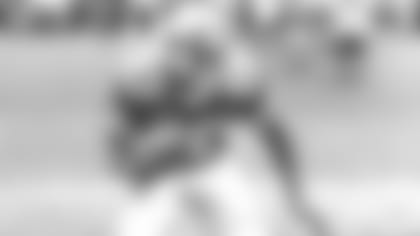 Johnny "Lam" Jones, the legendary Olympic gold medal sprinter and wide receiver from the state of Texas and the Jets' first pick of the 1980 NFL Draft, died this morning after his long battle with myeloma cancer. He was 60.
The Jets made draft-day headlines when they packed their 13th and 20th picks of Round 1, sent them to San Francisco for the 49ers' second pick, and grabbed Jones, who began at the University of Texas as a running back, moved to wide receiver as a sophomore, and electrified Longhorns and SWC fans not only on the football field but on the track.
Jones had a frustrating and injury-filled five-season career with the Jets that still had moments of great excitement as he teamed up with Wesley Walker and Derrick Gaffney to form one of the NFL's fastest wideout corps that helped the Green & White gain two playoff berths and reach the 1982 AFC Championship Game.
"I'm not going good right now. Lam and I always had a great relationship," Walker told newyorkjets.com today as well as his friends on Facebook. "A lot of people thought I was crazy because I would say he's the best I've ever seen. They'd say what about Joe Namath, Dan Marino, John Elway? They'd laugh at me and thought I was off my rocker.
"But I just know he had the attributes and all the talent and it just wasn't developed. I just wish he had accomplished certain things that I knew he could as an athlete."
Jones gave fans and teammates early hope when he had a 55-yard reception from Richard Todd in his fourth game as a pro at the Baltimore Colts in 1980. It would wind up being the longest catch of his career. Another highlight was a 47-yard TD connection with Todd in the 1981 season finale against Green Bay that was otherwise dominated by the New York Sack Exchange. His longest scoring reception was a 50-yarder again from Todd vs. the Colts in '83.
No. 80 had 138 receptions for his career for 2,322 yards (16.8 yards/catch) and 13 touchdowns, 41 catches of 20-plus yards and three 100-yard games. His most productive season was 1983 when he had 43 catches for 734 yards and four TDs.
Jones missed half the '84 season with a broken collarbone, then sat out '85 with an index finger injury and '86 with a hamstring injury. He was traded coincidentally back to the 49ers in July 1987, was released and went to Dallas, but played in no games with the 49ers or Cowboys before he called it an NFL career.
The Jets' interest in Lam came about in large part because of his phenomenal speed. Before enrolling at UT, he earned a berth on the U.S. Olympic 4 x 100 meters relay team and won a gold medal at the 1976 Montreal Olympics. This came after his classic roar-from-behind performance in the mile relay, "Lam's Legendary Lap," at the 1976 state track and field championships that is available on YouTube. As a Texas freshman, he ran the 100 meters in 9.85 seconds, which would've been a world record except that it was hand-timed.
Because he hailed from Lampasas (TX) High School and because he was teammates with Johnny Jones from Hamlin, TX, new Longhorns football coach Fred Akers dubbed them "Lam" and "Ham" and the nicknames stuck.
The once painfully shy Jones battled drug and alcohol addiction from his high school days. He ultimately went to rehab, recovered and became a motivational speaker for high school athletes about fighting addiction and hardship. He donated part of his speaking fees as well as his Olympic gold medal to the Texas Special Olympics.
"Lam was a very good person on top of everything," Walker said. "Even after all the things that happened to him recently, he was always upbeat, he never complained, he just explained the things he went through. I loved him as a person."
Jones died at Baylor's Scott & White Medical Center–Round Rock from myeloma cancer, which affected the bone marrow in his legs and which he had been battling since 2005. He will be buried in the Texas State Cemetery. His family is accepting donations to pay for expenses at Johnny "Lam" Jones Memorial Fund, 3112 Windsor Road, P.O Box 322, Austin, Tx. 78703.