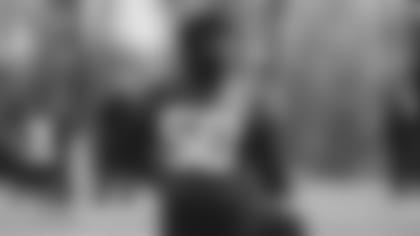 It's been a while since we've heard from Carl Lawson, since last Aug. 19, probably, the day he tore his Achilles tendon during a joint training camp practice with the Packers.
So it was good to hear the Jets' defensive lineman and edge rusher tell reporters after Wednesday's Phase 2 workout at the Atlantic Health Training Center that he can't wait to get back into full action.
"I'm extremely eager, extremely excited," he said. "I learned a lot just from the film. Yeah, I got hurt. It would've sucked either way. But it would've really sucked if I hadn't got all that film, if I had gotten hurt earlier in camp. Now I can say I can replicate this style. It'll be muscle memory, instead of just having to learn things all over. I was able to put stuff on film and watch it and I'll be able to grow from that."
This leads, of course, to those fraught football questions: Will you be ready for training camp? Have you lost anything in your game? Do you think it'll take a year to feel fully recovered from the Achilles injury?
"I'm good to go ... I'll be ready to go anytime my name is called. Even on one leg I was ready to go. But it's up to the trainers," he said. "I've had a major injury before and I came back better. This is different. I don't plan on not being better. Who knows? But I plan on being better than what I was."
While Lawson seems just a tad cautiously, a few other team leaders are very upbeat that the player wearing No. 58 in green and white this August will be the same force of nature they witnessed the year before.
"Carl, he's still working through, but he looks fantastic," head coach Robert Saleh said. "He's sprinting, he's doing everything, he's ready to roll. I think he was ready to roll the second he tore it. I mean, the guy is an animal with rehab, so I'm not worried about his availability."
Neither is MLB C.J. Mosley, who will get to see Lawson's progress up close and personal, from behind the defensive line.
"Just the things we saw Carl do before he was injured, he has a lot to look forward to," Mosley said. "He's itching to get back on the field. Every time we watch film, he's right there on camera, he wants to be out there working, but he's doing everything so he can get back out there. When the time's ready and his name is called, he'll definitely be ready to go."
To help him get through the rehab sessions of the past several months, Lawson put on his scout's cap, watching video of the college edge rushers about to be selected in the April 28-30 NFL Draft. His primary reason for all the study was to see what this year's QB chasers were doing so he could perhaps add some things to his game. A secondary reason was because "I just love watching football."
But in his video voraciousness, he observed the two players the Jets grabbed in the draft, Jermaine Johnson late in Round 1 and Micheal Clemons in Round 4.
"I like 'em both," he said. "They're very technical, and then you've got very physical guys. ... I like both."
Lawson also likes how the entire defensive line is shaping up, with the signings of Solomon Thomas and Jacob Martin in free agency, the re-signing of Vinny Curry, and the addition of the new ends to the mix that includes Quinnen Williams, John Franklin-Myers, Sheldon Rankins, Bryce Huff, Nathan Shepherd and more.
"I think the potential is out the roof," Lawson said of the D-line. "But at the same time, we've just got to stay healthy and be able to execute. We're always trying to add to this group of hungry guys, a bunch of guys with different back stories. Then it's going to be a competitive group, absolutely a breeding ground for monsters. So I love this group."
And perhaps Lawson loves it most of all because he's "extremely eager" to return to his role, short-circuited last summer, as monster-in-chief.