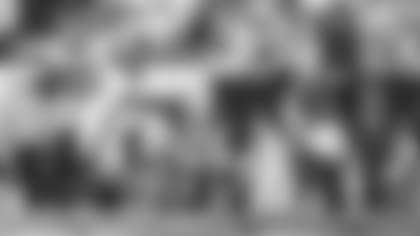 The Jets are 3-3 at their bye week after winning their last two games. Here are some awards after the first six games of the 2023 season compiled in a poll of the New York Jets editorial team.
Offensive MVP: RB Breece Hall
It's crazy to think that Breece Hall tore his ACL less than a year ago (Oct. 23, 2022). The second-year back ranks in the top 10 in the NFL with 426 rushing yards despite playing on a pitch count for the first few weeks of the season. Hall's 6.5 yards per carry leads the league among backs with at least 50 rushes.
According to Next Gen Stats, the Iowa State product has 170 rushing yards over expected, which leads the league among RBs with at least 40 attempts.
In Hall's 13 career games, the Jets are undefeated when he has at least 15 carries. He's a threat to score whenever he touches the ball. His 83-yard run in the second quarter of the season opener against Buffalo is the NFL's longest of the season and his 72-yard TD scamper that opened the second half of the Green & White's Week 5 win at Denver is the third-longest.
Defensive MVP: C.J. Mosley
This was close between Mosley and Quincy Williams, but Mosley has the edge as the conductor of the defense at Mike 'backer. His 59 tackles rank second on the team to go along with an interception, a forced fumble and 4 pass defenses. Mosley, a five-time Pro Bowl selection, is Pro Football Focus' No. 2 graded LB and No. 1 in coverage.
The captain is responsible for relaying the calls to the defense, setting up his teammates and is invaluable to the group. He may not have flashy stats, but he's the brains of the defense.
Most Improved: Quincy Williams
Williams has taken his game to a new level and has emerged on the national scene through the first six games. Williams has always played with speed, but he's playing with a more calculated approach like a cheetah stalking its prey (he watches cheetah videos before every game). Motivated by what he felt was a lack of respect in the offseason being compared to fellow linebackers, he sought constructive criticism from his younger brother Quinnen, and Mosley. It's paid off in the early part of the season.
Williams' 31 run stops are the most in the NFL through six games. He leads the team with 60 tackles, had 2 sacks in four plays at Denver ,including a forced fumble that led to a game-sealing scoop-and-score by Bryce Hall. He's been one of the league's best linebackers and is top-5 on PFF in defense grade, No. 2 in coverage (he has 5 PDs) and No. 2 in pass rush.
Comeback Player: Mekhi Becton
We've already discussed Breece Hall, so this goes to Mekhi Becton. Becton's last two seasons were cut short -- and barely got off the ground -- because of season-ending knee injuries. He took 48 snaps between 2021-22 after a promising rookie season in 2020. Through six games, he's taken 346 of 353 offensive snaps, the fourth-most on the team.
It's not easy to switch positions along the offensive line and Becton, who transformed his body over the offseason, did it seamlessly…twice. He earned the starting right tackle job after the preseason finale, a position he hadn't played since his early college days at Louisville. He then switched back to left tackle in Week 3 once Duane Brown was placed on injured reserve. Becton hasn't looked back.
Watching the former first-round pick emerge in training camp was one of the coolest parts of the summer and he's continuing to get better each week. As NFL Network's Brian Baldinger said: "He's starting to look like himself again." That's good for the Jets and scary for the rest.
Most Consistent: Thomas Morstead
Morstead gets the nod over Greg Zuerlein, who has been fantastic for the Jets, because Morstead hasn't missed a game.
Morstead's numbers are great. In his 16th NFL season, he ranks No. 5 in the league with a 75.9 punting grade. That number shoots up to No. 2 among punters who have taken 80% of the snaps. He's had 34.5% of his punts returned, which is the third-lowest rate in the NFL. He also ranks top-10 in the league in net yards per punt (No. 7), punts inside the 20-yard line (No. 4), yard per punt return (No. 6) and hangtime (No. 7).
Back-Half Breakout Player: DT Quinnen Williams
You could make a case for just about any player, especially on the defensive line. It was between Quinnen Williams, Bryce Huff and Jermaine Johnson, but it looks like Williams is due for a big back half of the season.
Four of the Jets' 10 remaining opponents rank in the bottom third in the NFL in sacks allowed. The No. 3 overall pick in 2019 has 0.5 sacks through the first six games compared to last season when he had 5 in that span. His 25 pressures are second in the NFL and he's tied for second with 20 QB hurries. Williams had 12 sacks last season, earning All-Pro and Pro Bowl honors. He'll have a better opportunity in the final 11 games to put up box score stats even though they don't tell the full story of his impact.