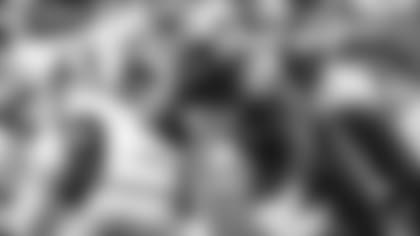 Ground Force
Let's just get this out of the way first and foremost. You won't have many days at the office where the run game works as flawlessly as it did on Sunday. The Jets gashed the Broncos for 323 yards, highlighted by Isaiah Crowell's single-game franchise-best 219. Crowell's second quarter 77-yard TD run couldn't have come at a better time with the Jets trailing 7-0 and after they had committed a pair of miscues. Not to mention the team had found the end zone just once in the previous seven quarters. That play shifted the momentum and kick-started a 21-point onslaught before halftime. Bilal Powell also fell just shy of a 100-yard afternoon, shaking off a fumble on the team's second play from scrimmage. And coming into Sunday, it was the Broncos rushing attack that was supposed to be the ground unit to be reckoned with.
O-Line
None of it would have been possible without the play up front of the offensive line. The Kelvin Beachum, James Carpenter, Spencer Long, Brian Winters and Brandon Shell quintet may have had their best game of the season. Take away Crowell's 77-yard scamper and the Jets still had close to 250 on the ground for 6.5 yards a pop. In the passing game, Sam Darnold was virtually untouched all afternoon while arguably the game's best pass rusher, Von Miller, was rendered invisible. One thing to remember, this is a group that didn't spend much time together as a whole during the preseason. They could be hitting their collective stride as we move through the second quarter of the season.
Quality, Not Quantity
Sam Darnold only completed 10 passes on Sunday, but they resulted in several explosive chunk plays. The pair of scoring strikes to Robby Anderson, along with the TD pass to Terrelle Pryor, were all delivered on the button. Anderson used a great double move to free himself up on the 76-yard score. Pryor made one heck of a grab to secure the ball and make sure he got both feet in bounds to essentially ice the ballgame. His athleticism was expected to be a valuable component to this offense, which the Jets hope to see more of in the coming weeks.
Defense
After last week's humbling performance in Jacksonville, the Jets defense made it their mission all week to make a statement against the Broncos. And make a statement they did. Don't let the yardage numbers fool you, much of that came in the fourth quarter during garbage time. This was a convincing display by the D. Leonard Williams was at his most disruptive, spending much of the afternoon in the Broncos backfield (2 sacks, 3 QB hits, 2 TFL). The unit as a whole did a great job stifling a Broncos ground attack that came in ranked third in the NFL. The secondary, already down Trumaine Johnson and who lost Buster Skrine (concussion), were flying around the field. Morris Claiborne had his best game of the year, getting his hands on several Case Keenum throws. Props to Parry Nickerson and Darryl Roberts for chipping in as well. Marcus Maye got his share of good-natured ribbing after the game with his 104-yard Interception return, which fell one yard shy of the end zone (an NFL record for longest INT return that didn't result in a score).
Win for Kacy
Defensive coordinator Kacy Rodgers didn't coach on Sunday as he deals with an unspecified illness. Several players spoke of extra motivation for a man they have a great deal of respect and admiration for. Head coach Todd Bowles called the defensive signals, something he alluded to after the game as being "hard," especially on such short notice. We all wish Coach Rodgers well and hope to see him back in his usual duties ASAP.
Carry it Over
The Jets found themselves in this same spot four weeks ago after their season opening win over Detroit. They followed up that victory with three consecutive defeats. Now to make this latest win hold up, they have to carry it over into next Sunday's game with the 1-4 Colts. On paper, this is a winnable game at home against a team that's dropped three straight. A victory would get the Green & White back even at 3-3. But the Jets aren't good enough to take anyone lightly. This is the NFL and you have to bring your best each and every Sunday. This team has learned that lesson once already this year. On a day where the Super Bowl III team will be honored, the current Jets will try and make history repeat itself by knocking off the Colts once again.