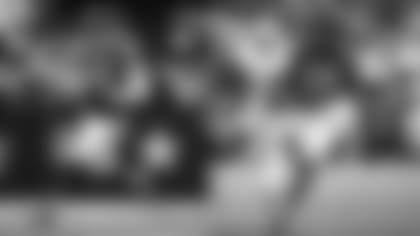 The long and short of it is, if the Jets offense needs a spark, it may well come from their Wilson-to-Wilson connection.
Garrett Wilson and Zach Wilson combined on a pretty pitch-and-catch for a 3-yard TD in the opening-night win over Buffalo.
They also teamed up for a beautiful (at the time) grab-and-go for a 68-yard score at Dallas.
Days before the Cowboys game, Garrett was gushing about his chemistry with Zach. "It's good, man, it's great. We got a chance to start on it last year and we've had a chance to pick back up on it since the games started and then in practice. ... All those reps are so valuable. We're building on it every day. But it's great."
Then days after the game, head coach Robert Saleh was still thumping the tub about Zach "hitting that strike route to Garrett," while Zach passed on kudos to Garrett — "he ran a great route and obviously did the rest" — and OC Nathaniel Hackett's play call.
Sticklers may still say, well, G.Wilson had only the two catches at Dallas, on eight targets. But the touchdowns in the first two weeks suggests greater Wilson chemistry may lie ahead.
The two TDs in two games put the tandem within striking distance of Jets list-ory for the duos with the most team games to start a season with at least one TD connection in each. It's a somewhat modest list yet populated with some big names from the Green & White archives. (Streak is team games from start of season, Total TDs are touchdowns during the season-opening streak):
Table inside Article

| Jets Receiver | Jets QB | Season | Streak | TotalTDs |
| --- | --- | --- | --- | --- |
| Don Maynard | Al Dorow | 1961 | 4 games | 6 |
| Wesley Walker | Richard Todd | 1983 | 4 games | 5 |
| Don Maynard | Joe Namath | 1968 | 3 games | 4 |
| Richard Caster | Joe Namath | 1975 | 3 games | 4 |
| Charles Wilson | Boomer Esiason | 1995 | 3 games | 3 |
| Chansi Stuckey | Brett Favre | 2008 | 3 games | 3 |
| Brandon Marshall | Ryan Fitzpatrick | 2015 | 3 games | 3 |
Keyshawn Johnson also had a four-game streak in 1998 but split his five TDs between Glenn Foley and Vinny Testaverde. Eric Decker also had a four-game individual streak in 2015 but was inactive in Game 3 in the middle of that stretch.
As we all have been told, past results are no guarantee of future performance. But some good omens are on the horizon for the Wilson brothers' plans for Sunday's home game against AFC East rival New England. Last year, in his ninth pro game, Garrett had his second 100-yard receiving day and his first at MetLife Stadium when he had six receptions (on seven targets) for 115 yards, all from Zach, against the Patriots.
Besides TDs, the next set of numbers to watch for with Garrett is consecutive games with at least one reception. He's at 19 games now, all from the start of his Jets career. More on that if G.Wilson gets closer to Wesley Walker's 31-game streak from 1977-79 to start his career. The Jets' all-time leader for most games with a catch from the start of a career: Keyshawn at 62, or 64 if we want to count playoff games.