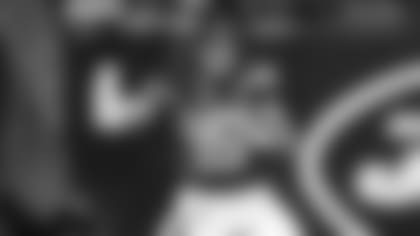 The Jets' 24-16 comeback win over Atlanta on Monday Night Football, Preseason Edition, was another case of the team's quarterbacks trying to find the momentum under some at times trying circumstances.
Mike White's first half plus one more drive were no doubt the most trying. White, the Jets' third QB, got the starting nod from head coach Robert Saleh with Zach Wilson rehabbing his knee and Joe Flacco told to watch from the sideline. And it didn't seem like a fair fight at the start when White and the Jets' second and third offense got to take on, for the first quarter plus, the Falcons' first and second defenses.
"I think it was one of those preseason games where you couldn't get into a rhythm," White said. "Presnap and postsnap penalties kind of hindered that. Those are the kinds of games where you can fall into the trap of trying to do too much as a quarterback and you start throwing unnecessary interceptions. From that perspective, I was happy with how I took care of the football."
White was accurate, completing 12 or 17 passes but only for 90 yards. Until White orchestrated a 37-yard field goal drive to end the first half, the Jets offense had been outgained by the Falcons, 306-60, and outscored, 16-0.
Then fourth QB, Chris Streveler, came on with 11:39 to play in the third quarter and did the kinds of things he did the week before at Philadelphia, which included sharp passing, fullback-like running and much-needed touchdown drives.
"It's not just me," Streveler said after completing eight of 11 for 119 yards, a TD and an interception, getting his passer rating for the preseason up to as high as 151.0, and rushing six times for 33 yards. "A lot of guys are out there making plays, right? Everybody's feeding off of it. You see guys out there competing in the second half, trying to make plays, and it perks everybody up. One of my favorite plays was with the ball on the 6-yard line, and in the huddle, I said we're running the ball here. And the offensive linemen, I just saw it in their eyes. They were fired up — 'Let's get this ball in.' So everyone's contributing, making plays and feeding off that."
The running play Streveler referenced was the culmination of his second TD drive of the night, a 7-yard left sweep by RB La'Mical Perine, that gave the Jets their first lead at 17-16. Four and a half minutes later, DL Bradlee Anae supplied the defensive half of that energy equation with his 30-yard strip, recovery, run and score and the lead was suddenly 24-16.
Streveler's first score came on a pass to WR-turned-TE Lawrence Cager, who was sprung free by Atlanta's coverage, went across the pattern, grabbed the QB's on-the-money pass and hotfooted it 34 yards untouched all the way to the goal line.
Not surprisingly, Streveler, on the roster of his fourth pro team in the last nine months, said all of this attention and success is kind of fun.
"You go out there, you get to play football and win. That's the most fun thing in the world," he said.
"He's a warrior and a fighter," head coach Robert Saleh said. "It's been cool to watch him play."