No information supposedly escapes a black hole, but the data leaking out of that familiar Black Hole by the Bay is telling us that the big, bad Raiders may be back ... just in time to play the Jets at home on Sunday.
"It really is really cool," said young QB Derek Carr of his 3-3 Raiders. "It's a very humbling experience so far just seeing how hard our guys work to get this place back to what it was and what it should be at all times."
It's up to the Jets to shrug off last week's New England disappointment and the Raiders crazies and get back to building up their own place. A win lifts them to 5-2 for the first time in five seasons.
"I think we're tough," head coach Todd Bowles said. "I think we'll be a tough out. We show up every week to play. We have to make plays. Nobody's going to give us any games."
Here are seven points to ponder about Sunday's Jets-Raiders game:
Which two NFL quarterbacks have notched the most consecutive scoring drives in a game this season? OK, Tom Brady is a given, with scores on the first nine drives vs. Jacksonville in Week 3. No. 2 is Carr, whose first seven drives opeend a 37-6 lead in the Raiders' 37-29 win last week at San Diego. "That really, definitely was an impressive piece of film to watch," said Jets DC Kacy Rodgers. Carr's one of six QBs with a 100 passer rating and also packs 4.0 yards/rush. (Last Jets QB with seven consecutive scoring drives: Brett Favre vs. St. Louis in 2008.)
Chris Ivory has looked "fine" this week, said Bowles, after his hamstring issues at NE. But he and his blockers (maybe with C Nick Mangold, maybe without) will be going up against the NFL's third-ranked run defense. Oakland's Latavius Murray, "underrated in the league," says Bowles, is big and fast, yet he'll be facing the league's newly risen No. 1 run defense, both in yards per game and per rush. Who wins the rushing battles will impact greatly on Points 3 and 4.
Jets CBs Darrelle Revis and Antonio Cromartie will be on their horses against the Oakland O that is back to going vertical like the Raiders of old. A lot of that is because of new guy Amari Cooper, the first-round draft choice who's playing like a veteran WR, especially in his breaks, route-running and YAC. His skillset has led to 33 receptions at 15.7 yards/catch and three TDs. Brandon Marshall's quickie assessment: "He's a stud muffin." The pass D also can't go to sleep on former 49er Michael Crabtree (also 33 catches, 11.5 yards/catch, 2 TDs).
4. Can He Give Them Fitz?
This is a key game for crafty QB Ryan Fitzpatrick. His WR crew is in flux with possibly Chris Owusu down (concussion) and Kenbrell Thompkins up (in his first game as a Jet). He's coming off a game against the Patriots in which he had a great third-down connection with Eric Decker but played too much beach volleyball with Rob Ninkovich. Fitz is also going up against the NFL's 32nd-ranked pass defense and is attempting to improve to 4-0 (and 3-0 at Oakland) against the Raiders with his fourth different team.
"On the scouting report you do a double take," Fitzpatrick said. "Was it really 1998 when he came in the league? It's amazing." The QB was referring to S Charles Woodson, 39 and in his 18th season. Was the CW showing signs of age by not practicing Wednesday with shoulder and knee injuries? Nope, just resting. He was full-go Thursday and appears ready to resume his ageless ballhawking — his four picks are tied for the NFL lead. (Career vs. the Jets, he has only two picks in nine games, both as a Packer.)
After games in North Jersey the previous two years, it's back out to Oaktown in one of the most unbalanced of the NFL's East/West rivalries. For different reasons, this will be the Jets' 11th game at the Coliseum of Many Names (Network Associates, Oakland Alameda County, now O.co) since 1999, compared to four home games. But this venerable AFL rivalry has tilted the Green & White's way with six wins in the last eight meetings, two of the wins at Oakland, including Calvin Pace's 3-sack game in the 38-0 shutout in '09.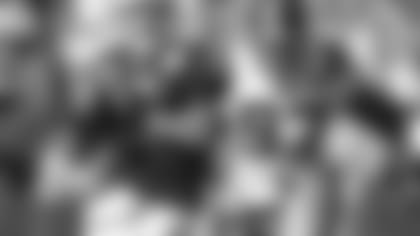 The Jets have always seemed to enjoy the ambience of the Black Hole, and that continues with the 2015 team. Fitzpatrick: "I think it's a fun atmosphere." Marshall: "It's my favorite place to play." Bowles: "Their fans dress up more than anybody I've seen as far as wearing the spikes and the other stuff. They have a great tradition there. It'll be a fun place to play." Of course for the Jets, the best way to spell "fun" would be with a W. That always makes a 3,000-miles-plus plane ride home more enjoyable.