*Updated, 11:30 a.m. ET, April 27
*
Winston Hill, the affable Jets tackle who nevertheless "viciously" protected the flanks of Jets quarterbacks for 14 seasons in the Sixties and Seventies expertly enough to be inducted in the Jets' inaugural Ring of Honor class, died tonight in his adopted hometown of Denver. He was 74.
"I was very sad to hear of the passing of Winston Hill," Jets owner Woody Johnson said tonight. "He was our most decorated player with a franchise-record eight all-star game appearances. And as accomplished as he was on the field, he was an even better person whose profound impact on his teammates and those who came in contact with him left an impression for a lifetime. He was the type of man who if you were his friend, you thought you were his best friend. Our hearts and prayers go out to the family and many friends of one of the Jets' all-time greats."
Hill came to the Green & White a Texan born and bred. He grew up in Joaquin, TX, attended Weldon High in Gladewater (where his father, Garfield, was the principal), and played his college ball at Texas Southern. As an All-American two-way lineman, he attracted the attention of the Baltimore Colts, who selected him in the 11th round (145th overall) of the NFL draft held in December 1962.
The Colts released him the next August, the newly minted 1963 Jets signed him the next day, and he was on his way to an exceptional Green & White career in uniform No. 75, always 75, that merits him at least consideration for the Pro Football Hall of Fame.
Settling in at left tackle, Hill as a rookie protected the blind sides of QBs Dick Wood and Galen Hall and opened holes for backs Mark Smolinski and Bill Mathis. Then in 1964, FB Matt Snell arrived. The next year the Jets positioned themselves to draft QB Joe Namath while WR George Sauer was signed to join Don Maynard. In 1966, RB Emerson Boozer arrived.
And the pillars of a Super Bowl offense rose up out of Shea Stadium.
"It was great to protect Joe all those years," Hill said back in 2010 when he was selected for the Ring of Honor. "You come across great people in a lifetime, and he's one of them. He was a very special ballplayer and elevated everyone else's play."
The same could be said of Hill as the anchor of the O-line. "His teammates revered him," said one follower of those Jets teams.
And why wouldn't they? "Winnie" earned his first AFL All-Star Game berth in his second season, 1964. Then beginning with '67 and '68 — arguably Namath's and the offense's two greatest seasons ― Hill was chosen for three straight AFL All-Star Games and, without missing a beat, four Pro Bowls in the Jets' first four seasons as members of the NFL from 1970-73.
Hill's eight all-star berths, the first five at left tackle and the last three on the right side, remain a franchise record.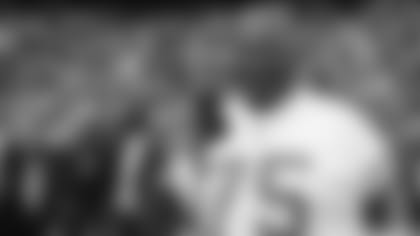 "I lined up behind Winnie in the backfield," Boozer said tonight upon hearing of his longtime teammate's passing. "We worked so well together. We communicated without speaking.
"And you could not meet a nicer person off the field," Emerson said with a laugh. "But on the field? Winnie was vicious!"
"Winnie was like my brother," center John Schmitt reflected tonight. "He was a terrific football player. His heart was as big as his body. He did not have a bad thing to say about anyone. I am going to miss that turkey."
And another member of that O-line, Randy Rasmussen, recalled Hill as "a wonderful friend and teammate. He taught me a lot about how to play the game and more importantly how to be a man. I will miss him very much."
Besides his outstanding play, Winston was also known for incredible durability throughout his career. He still holds the franchise mark for offensive linemen with 195 consecutive games played and 174 consecutive starts that D'Brickashaw Ferguson was within hailing distance of at 160 straight games and starts before he retired earlier this month.
Hill assembled his streaks despite a broken leg in the 1965 preseason and his throat being stepped on in 1974. He wasn't sure exactly how he stayed healthy for all those years but believed in a few key factors.
"I guess DNA has a lot to do with it," he said, "along with a hard-work ethic."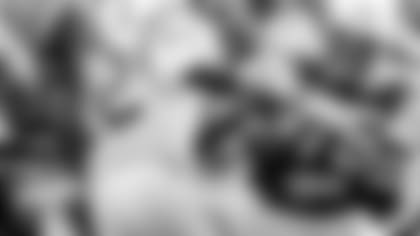 Hill's bruising blocks for a ground attack headed up by Snell and Boozer were critical in the Jets' 16-7 Super Bowl III victory over the Colts in Miami's Orange Bowl on Jan. 12, 1969. He flattened the Baltimore defensive frontline as Snell rushed 30 times for 121 yards and the Jets totaled 142 rushing yards.
"We were looking forward to playing the game, but we didn't know how important it really was, or at least I didn't," said Hill. "We just knew we were in it."
Hill didn't finish as a Jet, playing three games for the Los Angeles Rams in 1977. Then the gentleman tackle technician became a restaurateur in his new home of Denver with Winston Hill's Ribs and Stuff barbecue restaurant, and there was a good chance if you came in for a bite that Hill would be working the kitchen.
But of course he was always and will always be a New Yorker, a Jet all the way. And perhaps posthumously there could be one more honor.
"Winston should be in the Hall of Fame," said Frank Ramos, the Jets' longtime public relations director. "Bill Parcells wasn't around him all that much, but Bill also said the guy should be in the Hall. He was a great pass protector at left tackle for Namath. Then when the Jets picked up Bob Svihus in 1971, Svihus could only play left tackle so they asked Winston if he could move to right tackle."
But that wasn't important for the cerebral, selfless Winston Cordell Hill six years ago as he was preparing for induction into that first Ring of Honor along with Namath, Maynard, Joe Klecko, Curtis Martin and head coach Weeb Ewbank.
"Being in the first class that will go into MetLife Stadium with the character of the people that are going in with me, I'm not going to consider anything else an honor higher than this," he said. "Being put in the Hall  of Fame doesn't measure up right now."