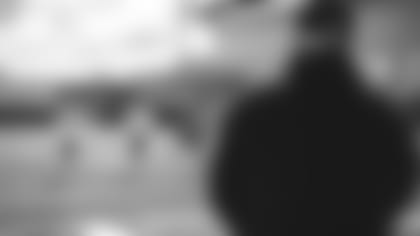 Rookie minicamp is underway at 1 Jets Drive.
Along the Jets' seven-player draft class and 13 undrafted free agents are roughly 40 tryout players all getting their first taste of the NFL Friday and Saturday.
"Well first, we want to acclimate the kids who will be here on the 90-man roster," HC Robert Saleh said. "So, your undrafted free agents and your rookies that we did draft, we're putting them through a lot of the things that they'll see once they get here, so kind of an introduction to the scheme. As far as somebody sneaking their way onto the 90, you're looking for talent, mindset, the way they approach these next two days. … If they're capable of making the 90, they'll stand out."
Last year, the Jets signed May tryout WR Calvin Jackson and he would go on to impress in the preseason.
The draft picks will work off to the side with the strength and conditioning this weekend while the UDFAs and tryout players participate in scaled-back practices.
"It's a cool experience," first-round pick Will McDonald said. "Just practicing, I felt a relief like I'm able to make it here. Coming from where I'm coming from, it's a great opportunity right now, so it's pretty cool."
He added: "We weren't going full speed. Tomorrow [Saturday] is supposed to be more intense, so I'm hoping to do a lot more."
While McDonald, who will wear No. 99, the same number he first wore at Iowa State before switching to 9, had his first taste of the Jets' coaches, it's a two-way street.
"He is long, big," Saleh said. "You look at his height, weight and then you see him and you're like, 'Wow, he just feels bigger.' There's no doubt in an NFL program with an NFL training table, he's going to gain another 10-15 pounds. He's going to be pretty cool. I'm excited to work with him."
Second-round pick Joe Tippmann, pick No. 43 wearing No. 66 this weekend, has been itching for this moment.
"It's a great experience," Tippmann said. "I mean, just being able to finally dive fully into a playbook. It's something that over these past, I guess, three months that I've just wanted to finally find myself in an offense, and it's just a great feeling to finally be in one."
The former Wisconsin center has not yet met the former Packers signal-caller and current Jets QB, Aaron Rodgers. He did, however, receive two welcome "gifts" from former Jets offensive linemen. First was Jason Fabini, who has coached Tippmann since sixth grade. Fabini gave his mentee a lot of old Jets gear shortly after the draft. The second gift was from C Nick Mangold, who Tippmann hasn't met -- two bottles of 74 BBQ Sauce in his locker. Ironically, Tippmann is the first pure center drafted by the Jets since Mangold in 2006.
Tippmann only played at the pivot for the Badgers but has experience at both tackle and guard in practice. He also practiced at guard during the pre-draft process.
Tippmann comes from a rich history of offensive linemen from Wisconsin that includes Hall of Fame LT Joe Thomas. He became the 24th Badgers offensive lineman to be drafted since 2000, 9 of which have been selected in the first two rounds.
"Just being at Wisconsin, there's just a tradition of kind of excellence," he said. "It's nothing that's really ever stated, but you walk into the O-line room, you can just feel it. Just a group of tough, nasty individuals that are all working towards the same goal. And I think that's just kind of a tradition that they've been able to establish."