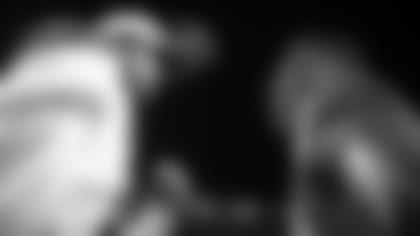 Throughout the season, NewYorkJets.com reporters Eric Allen, Ethan Greenberg, Olivia Landis and Randy Lange will each give their predictions to a series of questions regarding this year's Jets.
Today's question: Which Jets-Giants matchup are you looking forward it?
EA: Get the popcorn ready for Jamal Adams and Saquon Barkley. While Adams is disappointed Giants TE Evan Engram (foot) won't be in the lineup, he will be key against Barkley. The Jets rush defense is tops in the league, holding opposition ball carriers to just 3.13 yards a carry. But Barkley is a freak of nature, a 6'0", 233-pounder who has the ability to make explosive plays on his own. He's got it all — speed, power, vision and great feel in the open field. But Adams, who leads the Green & White with 52 tackles and has seven stops behind the line of scrimmage, is an instinctive force himself. The third-year safety is nasty against the run and his route recognition and ability to anticipate what's coming makes him a complete defender. Then on top of all that, you have the additional storyline of the fathers. Barkley grew up a Jets fan and told reporters this week that his dad, Alibay, plans on wearing a Joe Namath jersey to the game. Adams grew up a Giants fan because his pops, George, was a first-round pick of the G-Men in 1985 and lined up for Big Blue for four seasons. Barkley and Adams will exchange pleasantries with a jersey swap after the game, but brace yourself for some old-school football between the two wonderful talents at MetLife Stadium.
EG: I'm excited to see Sam Darnold and Daniel Jones go toe-to-toe for the first time. While they won't literally line up against one another, it's still the most intriguing matchup to me. Two young quarterbacks with bragging rights for New York supremacy on the line — how could you not be excited? Growing up in New York, Jets-Giants is a unique rivalry with both teams sharing a city and a stadium. Being able to say your team is better than the other for four years means something to New Yorkers, factor in two young quarterbacks and the stakes become that much higher. Both Darnold, the 2018 No. 3 overall pick and Jones, this year's No. 6 overall pick, have struggled with turnovers as of late, but will face defenses that rank No. 25 (Giants) and No. 24 (Jets) against the pass. It feels like there is something extra on the line with these two signal-callers at the helm in the Big Apple.
OL: One of the most interesting matchups to watch will be new Giants defensive lineman Leonard Williams facing off against his former Jets teammates along the offensive line. In his four-plus seasons with the Green and White, Williams racked up 240 tackles, 17 sacks, one interception and two forced fumbles before being traded to the cross-town rivals for a 2020 third-round pick and a 2021 fifth-round pick. Earlier this week when asked about lining up across from players like Sam Darnold and Le'Veon Bell, Williams jokingly mentioned how it could be 'weird' but said "I finally get to tackle [Darnold]." The 6'5", 302-pound Williams has always held a strong presence on the line, especially in the run-stop game. Considering he is familiar with most of Adam Gase's play-calling, I'll be interested to see how the Jets offense is able to attack Big Blue's 28th ranked defense (391.4 Yds/G).
RL: I really want to see the Jets D-line up against the Giants O-line. Why a matchup "in the trenches," you might ask. Well, no offense to the Giants' OL but I want to see how the Jets' DL responds to a lot of things. For starters, it's their 2nd game playing without Leonard Williams and their first "going against him" playing for the other team in town. Leo was respected in the Jets' locker room and it will be interesting to see if 99 in blue or someone else in green rises up with a huge game. Then there's the Saquon Barkley factor. The Jets' run defense is the hottest unit on the Green & White, leading the NFL with 3.13 yards allowed/carry. And led by rookies Quinnen Williams and Kyle Phillips and second-year man Foley Fatukasi, the Jets have posted an eye-popping 39 tackles at or behind the line on rushes and receptions in the last three games. If they stay hot, Saquon should find the sledding tough. Finally, Daniel Jones. The Giants' rookie QB leads all NFL players with eight lost fumbles this season. Six lost FUMs have come on strip sacks, two on rushing plays. Two more strips were recovered by the Giants. One other strip sack was nullified by a penalty. And two of his strip sack fumbles have been returned for TDs, one in each of the past two games. Someone on the Jets' DL, plus LBs such as Jordan Jenkins and Tarell Basham, should have a chance to separate Jones from the ball Sunday. If so, they need to do it. A much-needed Jets win could depend on it.