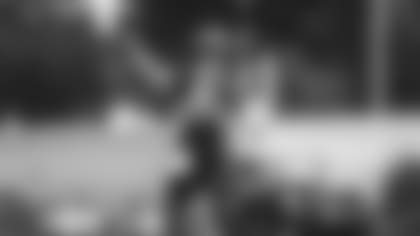 Throughout the offseason, NewYorkJets.com reporters Eric Allen, Ethan Greenberg, Randy Lange and Caroline Hendershot will each give their predictions to a series of questions regarding this year's Jets.
Today's question: What should we expect from Joe Flacco and the first-team offense vs. Falcons?
EA: I'm "torn" with my answer because head coach Robert Saleh described himself as "torn" on whether to play or rest his starters vs. the Falcons. From what I saw over the weekend in the two joint sessions with Atlanta and the Jets' excellent execution, I won't be surprised if Saleh elects to keep Joe Flacco out of the lineup. While the 'heightened environment' of Monday night football could be considered with the young players, Flacco (37) is a former Super Bowl MVP who's thrown for more than 41,000 yards. Rain is also in the forecast, so you could have a slick field. On top of all that, last Friday night, the Green & White lost starting signal-caller Zach Wilson to a knee injury. If the Jets played their starters against the Falcons for a quarter or a couple of drives, I'd expect 10 points and crisp ball. The Jets were clicking in all offensive phases against the Falcons on Friday and Saturday, getting great production from the backs, tight ends and receivers. While the club wants continuity up front, LT Duane Brown won't get team reps until Wednesday at the earliest and the Jets could again be cautious with RT George Fant. If Flacco sits a second consecutive game, another great opportunity awaits Mike White and Chris Streveler.
EG: Assuming the first-team offense plays Monday night against the Falcons, I expect a carryover from the joint practices Friday and Saturday. Joe Flacco and the Jets offense were crisp. They moved the ball efficiently both days and scored in a longer move-the-ball period Friday and a shorter one Saturday. The group had at least one touchdown from a RB, WR and TE -- Breece Hall had a 75-yard TD run, Tyler Conklin had a touchdown in an end-of-game situation and Braxton Berrios punched it in the end zone to cap a move-the-ball period. Corey Davis and Elijah Moore also had made highlight-reel catches -- Davis brought in a pass one handed down the sideline before Conklin's TD and Moore caught a 50-yard pass before juking a defender. If the starters play against the Falcons -- Robert Saleh said he was "torn" on the decision -- I expect an efficient series leading to points whether it's a field goal or a touchdown. I'd understand if Saleh elects not to play them, however. The last time the Jets' first-team offense took the field in a game, Zach Wilson went down and the Green & White avoided a major injury. Carl Lawson, the team's best player in training camp last year, didn't take a regular-season snap in 2021 because of his Achilles tendon injury he sustained in a joint practice at Green Bay leading up to the second preseason game. Last but not least, the Jets' projected starting offensive line has not taken a single snap together in team periods. George Fant remains on a pitch count and new LT Duane Brown is expected to take his first team reps this week.
RL: I expect to see the same Joe Flacco and offense that we saw in the joint practices with the Falcons on Friday and Saturday. Flacco was sharp during drills with Atlanta. And his receivers, perhaps because they're a combination of flexible returning skill players who as Elijah Moore said, "played with four quarterbacks" last season and new guys like Garrett Wilson and Breece Hall who want to put on a show in their first NFL home game, look ready to roll out a good half or so of offensive football at MetLife on "MNF." Also, for those who point out that Flacco is 0-5 as a Jets starter, consider that when he didn't play in 2020-21, the Jets were 6-22. In any event, Flacco's QB numbers the past two seasons — 88.3 passer rating, drive metrics of 20.6% TD rate, 7.5% TO rate, 5.6 plays/drive, 31.1 yards/drive — are all better than his W-L mark would suggest. Mix in the Falcons' D, which we're sure is improved this year but for the previous four seasons combined posted average rankings in the 20s for total yards and passing yards allowed, and I think Flacco, as long as his line gives him the protection he needs, and his offense will do well in its time on turf Monday.
CH: If Robert Saleh decides to play the starters against the Falcons, we should expect to see an efficient offense Monday night. Throughout both joint practices with Atlanta, Joe Flacco and the first-team offense looked as close to their best as we've seen. RB Breece Hall, WR Garrett Wilson, WR Elijah Moore and TE Tyler Conklin all shined Friday and Saturday in 2-minute drills and move-the-ball periods against the Falcons. Elijah Moore said the Jets were "attacking the practices with consistency" and "starting out fast." If the Jets offense continues to be consistent and start out with the same fast tempo they had in joint practices, I think Monday night will be a good step forward for their development.