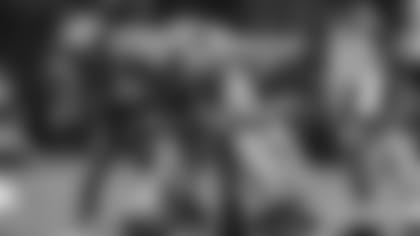 Throughout the season, NewYorkJets.com reporters Eric Allen, Ethan Greenberg,Olivia Landis and Randy Lange will each give their predictions to a series of questions regarding this year's Jets.
Today's question: What catches your eye about the Jets' roster?
The Jets kept just five cornerbacks and that signals to me that the club likes where Trumaine Johnson is at right now. Hamstring issues can be tricky, so the Green & White took a cautious approach this summer with Tru this summer when when his hammy got tight in practice. The top three has been set for months, but the Green & White added depth with the trade acquisition of former Colts cornerback Nate Hariston and Arthur Maulet fought his way on to the roster. The reserve pair can play both outside the numbers and inside at nickel and we'll have to see who that fourth CB will be Sunday against the Bills. Waiver claim Bennett Jackson, a sixth-round pick of the Giants in 2014, has battled injuries, but he's a talented player who could also offer some position flexibility. While the Browns figure to be a pass-heavy team in Week 2, the Bills might start out with a more balanced approach. It's always fun to see how teams attack each other early in the season.
Just like cornerback, the Jets' 1-2-3 at receiver has been locked for a long time going back to when Jamison Crowder put pen to paper. This trio has the potential to be explosive and they all bring a different skill set to the table. Josh Bellamy, who will be a core special teams performer, will be first up on the outside if anyone goes down. Braxton Berrios, the opening-day punt returner, was a quality slot receiver at Miami (FL) and this staff has had their eyes on him for a while. He'll be the insurance for Crowder in the middle.
But why just five receivers? To me, it's simple. Le'Veon Bell (Juice) and the brand that is No. 88 — Ty Montgomery — can both line up anywhere on the field. Bell had 85 receptions in 2017 and he could be a good NFL receiver if he opted to take that route. Montgomery has been an eye-opener throughout the summer and he may have found a perfect home here with Adam Gase calling the plays.
EG: The specialists. The Jets made four waiver claims last weekend and two of them — K Kaare Vedvik and WR-PR Braxton Berrios — will start on special teams units even though neither of them have played in the regular season. Vedvik was stellar with the Ravens as he went 4-for-4, including a 55-yard boot, before he was traded to the Vikings for a 2020 fifth-round pick. The Marshall product then connected on one of his four field-goal attempts in Minnesota and was subsequently waived. The Jets had success last year claiming a kicker, Jason Myers, who earned a spot in the Pro Bowl.
Head coach Adam Gase said Berrios will return punts for the Jets Sunday against the Bills in what will be the 5'9", 190-pounder's regular-season debut — he spent 2018 on injured reserve after being drafted by the Patriots in the sixth round. The Miami product was a productive receiver and returner for the Hurricanes as he caught 100 passes for 1,175 yards and 14 touchdowns and averaged 10.4 yards per punt return.
OL: In terms of the Jets' 53-man roster, the offensive line definitely catches my eye. For starters, veteran C Ryan Kalil is expected to make his debut for the Green and White this weekend against the Bills after coming out of retirement to play with QB Sam Darnold. Kalil hasn't played a game with the young QB yet, so I'm interested to see how they work together. I also think the acquisition of Pro Bowl LG Kelechi Osemele will add a boost of energy the offense needs. Although the insertions of Kalil and Osemele will be valuable, the starting offensive line has yet to play a game snap together, so building chemistry quickly will be key for this group's success. Jets GM Joe Douglas, a former offensive lineman himself, has talked multiple times about the importance of building a strong line since being hired in June. Now with the regular season here, the depth of this group could be a strength after an offseason that brought Tom Compton, Alex Lewis and rookie Chuma Edoga to One Jets Drive.
RL: I'm keen to see how the Jets' linebacker shakeout cruise goes in the opener. There are two big names in C.J. Mosley and Jordan Jenkins who should rise to the occasion sooner than later, Mosley as the MLB playcaller and takeaway maker and Jenkins as the OLB who has worked hard to improve his game, especially his pass-rushing, every year. Alongside Mosley is Neville Hewitt, who filled in well late last year in the starting lineup and must get up to speed quickly after replacing the injured Avery Williamson. Then at the other outside spot, it looks like a committee meeting. Harvey Langi, who put in long hours all offseason and preseason at the Atlantic Health Training Center, is listed unofficially as the starter but we should see lots of second-year man Frankie Luvu and the promising recent waivers arrival from the Rams of "slash" LB/DE John Franklin-Myers at the position.