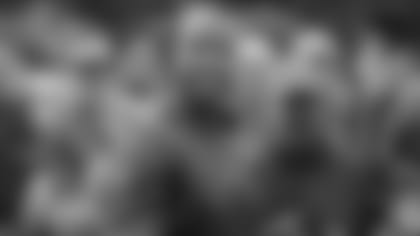 Trumaine Johnson grew up in California and has been an Angeleno for the past several years. But the seventh-year cornerback said that for the past six weeks, while he was honing his body in Los Angeles, his heart was back east in his new home.
"I'm really excited. I feel great," Johnson said. "I was in LA. for a month and a half training and I couldn't help thinking about these guys and getting back to work with them."
"These guys" are the Jets, who all are reporting to the Atlantic Health Training Center today for the start of training camp. And Johnson told reporters outside the press room that he packed some things for his cross-country trip — not just his considerable corner skills but his dabbling with the Rams' winning culture last season.
"I've been about winning games all my life," he said. "Just getting a little taste of it last year with the Rams, I'm just bringing that winning culture over here and feeding these guys my knowledge and just having fun with it."
It took the Rams a while to get from their last winning season in St. Louis in 2003 to last year's 11-5 mark and NFC West title in La-La Land. And Johnson was a big part of that. Then as he researched potential new homes as an unrestricted free agent in the offseason, he noticed something about the Green & White.
"The Jets last year, I was watching them. They were losing close games and they beat some playoff teams. So I mean, they've got all the potential in the world to be a playoff team," he said. "I can't sit up here and tell you what day and time exactly it's going to happen. But it's a daily thing, man, building chemistry and trusting these guys and going out there and playing and having fun with it, too."
Johnson joins a secondary that can become one of the strengths of the Jets' defense and team in 2018. Already in place on the corner are Morris Claiborne, a UFA import himself from the Cowboys who had a good season, and returnee Buster Skrine. At safety, it's year two for Jamal Adams and Marcus Maye.
"I love Jamal, I do," Johnson said. "And Maye, coming off his injury, I can't wait to play with him, too."
With the conditioning runs conducted today, the Jets will hit the ground running Friday. No one's looking too far ahead but after a pair of 5-11 seasons and an ongoing rebuilding process, there's a good vibe around camp this season, and even a West Coast import like Trumaine Johnson can feel it.
"Like I said, bringing a winning culture from where I was last year, I can see it, I really can," he said. "We've just got to wait and see."