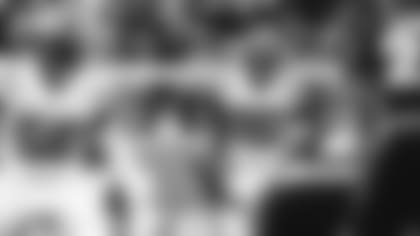 The Jets' three-game winning streak came to a halt following a 22-6 setback to the Bengals. Let's analyze the snap count and how playing time was distributed.
OFFENSE
The Jets ran a season-high 74 plays on offense against Cincinnati, eclipsing the previous high of 72 back in Week 1 against the Bills. Seventeen players saw the field for the Green and White's offense, three fewer than last week's win over Oakland. Six members of the group were on field for every play (74 total): Kelvin Beachum, Alex Lewis, Jonotthan Harrison, Brandon Shell, Tom Compton and Sam Darnold. The unit did produce an opening-drive score for the sixth consecutive game. Sam Ficken's 42-yard field goal capped a 13-play, 51-yard march down the field.
Despite not getting the team in the endzone, Darnold stood tall under duress completing 28-of-48 for 239 yards, while also getting sacked four times and absorbing nine quarterback hits. He also played a turnover-free game for the third time in four weeks.
Le'Veon Bell (63/74, 85%) received his most playing time since Week 9 at Miami, a week after playing a season-low 36 snaps against the Raiders. Bell churned out 67 yards from scrimmage on 14 touches. Bilal Powell (11 snaps, 15%) and Ty Montgomery (4 snaps, 5%) were the only other running backs active in Cincinnati.
The Jets once again had five wide receivers involved in the offense. For the eighth consecutive outing, Robby Anderson led the group in playing time with 65 snaps (88%) and turned in one of his most productive games in 2019. Anderson pulled in a season-high 7 grabs for 101 yards, the second time he's topped the century mark on the year. Jamison Crowder (63 snaps, 85%) had 2 receptions, while seeing his most on-field action since week three at New England (90%). Demaryius Thomas (55/74, 74%) had 3 catches for 23 yards. Vyncint Smith (20/74, 27%) hauled in 2 grabs for 23 yards, while Braxton Berrios played eight snaps (11%) and caught 1 pass.
As he has all season, Ryan Griffin led the tight end group in playing time against the Bengals (62/74, 84%). Griffin had 5 catches for 30 yards, his third game in the last five with at least five grabs. Daniel Brown (11 snaps, 15%) and Rookie Trevon Wesco (8 plays, 11%) contributed as well.
DEFENSE
The Jets defense was on field for 66 plays against the Bengals. Nineteen players saw action for Gregg Williams' group, one more than last week against Oakland. Three players never left the field on defense: James Burgess, Marcus Maye and Bless Austin. Jamal Adams and Neville Hewitt only missed one play each (65/66). The League's top-ranked rush defense limited the Bengals to just 44 yards on 25 carries (1.8 avg).
Seven defensive linemen were active in Cincinnati, up one from the six that had been representing the group on Sundays. Henry Anderson led the unit in playing time for the second straight week (45/66, 68%) while recording 3 tackles. Quinnen Williams (39/66, 59%) registered 2 tackles, including 1 TFL. Steve McLendon (30 snaps, 45%) had 3 tackles, 1.5 TFLs, while recording the only sack of Andy Dalton. Kyle Phillips (25/66, 38%), Foley Fatukasi (23 snaps, 35%), Jordan Willis (20 snaps, 30%) and Nathan Shepherd (17 snaps, 26%) were part of the rotation, as well.
Burgess continues to be a mainstay for the defense since his elevation from the practice squad six games ago, playing all but four snaps during that span. Against the Bengals he led the team with 9 tackles, while being on-field for all 66 plays. Hewitt (65/66, 98%) had 4 tackles, while Jordan Jenkins (43 snaps, 65%) made 3 stops. Tarell Basham (21 snaps, 32%) and Brandon Copeland (9 snaps, 14%) rounded out the playing time for the linebackers.
Maye played every snap for the second straight game, making 3 tackles. For the second straight week, Austin never left the field and the rookie contributed a pass defense. In just his fourth game with the Jets, Maurice Canady made his most significant contribution (47/66, 71%), finishing with 8 tackles and a pass defense. Brian Poole (43/66, 65%) made 3 tackles, Arthur Maulet (28/66, 42%) registered 6 stops and a pass defended. Darryl Roberts (8 snaps, 12%) made his return to the lineup following a three-game absence, making 2 tackles including 1 TFL.
SPECIAL TEAMS
On special teams, Brandon Copeland led the way with 23 snaps. Daniel Brown and Darryl Roberts were close behind with 20 apiece. Tarell Bashem and Frankie Luvu each contributed 18 snaps.