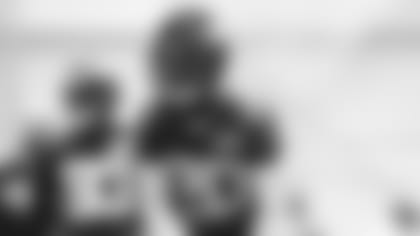 The first practice of Jets rookie minicamp was not your father's first practice of rookie minicamp. Head coach Robert Saleh explained that the accent Friday was less on what the team's first-year draft picks, free agent signees and tryouts did in 7-on-7 drills and more on what they did with the team's strength and conditioning coaches, not suffering a devastating injury on day one, on being creative instead of creature-like in pressuring the quarterback.
None of that mattered to Ahmad "Sauce" Gardner. He's still as hot as a habanero about finally wearing the full green and white.
"It felt good to be in a Jets uniform," Gardner told team reporters following the midday session at the Atlantic Health Jets Training Center. "Man, it just felt good, like a dream come true. You get into college and you're still trying to put that work in to get where I am today. It felt good, but it's still square one for me at the same time, so I have a lot to prove."
Perhaps less to prove than some other cornerbacks in the 2022 NFL Draft, since the Jets tabbed the Cincinnati Bearcats cornerback No. 4 overall. Gardner dug into several gameday topics that the reporters peppered him with in his short news conference.
On playing more zone coverage in the pros than he did in college: "I like playing zone. I feel like it's easier. I like what everyone around me is doing so I know what to do, when to be there. I feel like I'm a great zone player, too."
On some opposing wideout landmarks that he uses to play his patented press-man coverage: "People say look at the waist, just keep it there at the waist. I have something different that I look at. ... [but] I don't want receivers seeing that because then they'll be trying to do stuff differently."
On film study, which becomes so much more important in the NFL: "Oh, yeah, most definitely. It doesn't matter how young I am, how old I am, I'm always going to try to help others. ... At Cincinnati, you play press coverage and you'd better be studying film or you're going to get beat a lot. I always prided myself on studying film, knowing where the other 10 guys on defense are going to be. I study film a lot."
But as Gardner has hinted in these answers and even stated in his interviews since being drafted by the Jets eight days ago, it's about the people around him as much as it's about him. It's about being "the best teammate I can be."
His family team, for instance, and his mom, Alisa. Sauce has described her as "my hero." But has he gotten her anything for Mother's Day on Sunday?
"Not yet," he said. "She was probably expecting something right after I was drafted. But me and my brother, we're going to surprise her with something. I don't want her to know what's coming, but either way she's going to be astonished."
And then shifting back to football and those new green uniforms everyone was sporting at that first practice, he was asked about being front and center in the Jets' much celebrated seven-player draft class and what he thought of the group.
"I would say we got a lot of good guys, great guys, great people, not only great players," Gardner said. "The majority of people we drafted, I trained with them at Exos in Frisco, Texas. On draft night, the Jets would pick and I'd say, 'Damn, that's Breece [Hall] ... damn, Jermaine [Johnson] ... damn, Micheal Clemons. Those are all guys I already trained with. I'm pretty much familiar with everybody.
"And I just can't wait to see what we can do together on the team."
See the 2022 Jets rookies on the field for the first time at 1 Jets Drive.