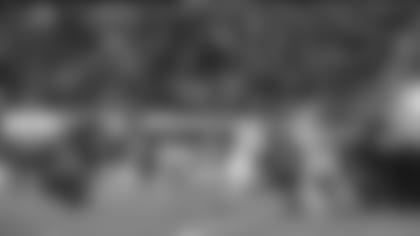 There was a lot riding on the last 1:33 of today's Jets-Dolphins game at MetLife Stadium. The Jets wanted to get that victory feeling again after last week's depressing loss at Cincinnati. They wanted payback for the loss at Miami five weeks earlier. They wanted one more chance to show they have this next-man-up thing down pat.
All they needed with 3 seconds to go to get all of that was one more field goal from Sam Ficken.
"I've been doing this for a while," Ficken, the Jets' placekicker since Game 2, said after he tucked his 44-yard kick just inside the right upright as time ran out for the walkoff points in the Jets' 22-21 victory. "I had a could of gamewinners in college. This is definitely the best kick I've had in my pro career.
"Obviously, this one felt very good."
At the same time, Ficken didn't want to gloat or boast or trashtalk. That's not his style.
"A kicker at this level, you hope for a chance right at the ticker," he said. "The offense did a good job moving the ball down the field to get me in range. The snap and the hold were good. And then just doing what I've done a million times."
Actually he did something that Jets kickers have done far fewer than a million times. It was just the 23rd walkoff field goal in team annals, including all winning kicks at 0:00 of regulation and in overtime. Want to count only triple-zero kicks? It was the sixth to end regulation with a winning field goal by a Jets kicker.
As for distance, Ficken can lay claim to this distinction: His 44-yarder was the longest walkoff field goal in franchise history. The previous longs were by Mike Nugent in the 2007 season finale against the Chiefs for a 13-10 triumph and Nick Folk in the 2013 Monday nighter at Atlanta that pulled out that 30-28 road win. Both were 43-yarders.
But the distance didn't matter to Ficken's teammates, who all expressed confidence or joy at the last-second development.
"I was confident, confident in him," Darnold said. "He drills those all the time in practice, so it was cool to see him do it in a game, in that huge situation."
"It felt great," WR Robby Anderson said. "It felt amazing."
"High," head coach Adam Gase said of where his confidence in Ficken is. "Because he's our kicker. If he's our kicker, I expect him to make it."
Ficken's Jets career had been a series of roller-coaster rides. He made a 52-yard field goal in that loss at Miami and a 53-yarder the next week against the Giants. He came into today's game with an 11-for-16 log, not exceptional, yet all five misses were from 48 yards or longer. He missed the first extra point today, but that was more the result of a rare snap/hold issue between snapper Thomas Hennessy and holder Lachlan Edwards.
But his kickoffs have generally been, while not Jason Myers-touchback-good, very good at holding opponents to the 25 or closer to their goal line. And now his first pro walkoff success will add to his green and white résumé, not to mention his own self-assurance.
"I think anytime you see the ball go in, you build a little bit of confidence in yourself," Ficken said. "With this one meaning a little bit more than most of them, it certainly feels good. And not taking that away but again, you focus on the next kick, always."
"It wasn't some heroic kick," he said, businesslike and modest as always. "We're expected to make those in this league. I was just happy to come through for my team."