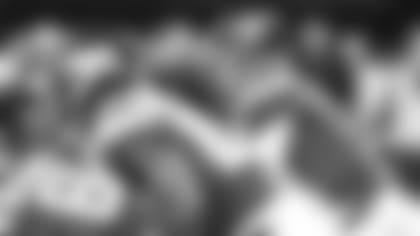 In his first two preseason starts, Sam Darnold came out throwing ropes while leading the Green & White to touchdown drives on their opening series against both the Giants and Falcons. He had to wait a while against the Saints before the first-team offense got going, but he led his third scoring drive of the summer and capped it off with a beautiful 2-yard touchdown toss to Ty Montgomery.
Unlike the first two contests when the Jets started with the ball, the Saints won the toss and Darnold was forced to watch one of the game's all-time greats go to work. In his first game action of August, Brees calmly marched the Saints down the field, connecting on 4-of-6 for 68 yards including a picture-perfect 19-yard score to Michael Thomas.
Darnold got the ball back, but he wouldn't have it for long. He took a shot while attempting a first-down pass that resulted in a defensive pass interference penalty and then Montgomery lost a fumble the ensuing snap. The Saints added a Will Lutz field goal off the takeaway and Darnold, who hadn't yet registered a stat, and the Jets trailed 10-0.
A holding penalty charged to Jonotthan Harrison put the offense behind the sticks on its second drive. Darnold was called for an intentional grounding infraction on third down when protection broke down in front of him and he attempted to get the ball out of harm's way.
"I think guys were pressing in terms of not being used to having a three-and-out or a turnover on the first drive," he said. "So I think just responding to that, getting used to that, that's definitely something we weren't used to."
The Jets had things going on their third possession as Darnold hung in the pocket and found Robby Anderson for a 19-yard gain. But a holding penalty charged to LT Kelvin Beachum got the home club behind the sticks again and momentum was stymied.
"Early I thought he had a couple of good decisions and there were a couple of decisions we have to clean up," said Jets head coach Adam Gase of Darnold.
Darnold and Anderson kept at it, finally breaking through against the Saints' reserves when the speedster got a step on cornerback Patrick Robinson. On a third-and-3 play, the line held up long enough for Darnold to get the ball out there and Anderson hauled it in.
Then after an 8-yard completion to Jamison Crowder and a pair of Montgomery runs, Darnold threw a great touch pass to Montgomery for the score. The second-year signal caller started in shotgun with his back to his right before Montgomery ran all the way across the field and Darnold put the leather on his fingers. He had an easier throw to TE Chris Herndon, but the lob to Montgomery showed just how dangerous a passer Darnold is.
"The throw on the touchdown was really good," Gase said. "Sometimes he makes some of these throws and I'm not really sure how he completes them, but I thought there was a lot of good out of tonight."
In eight drives this preseason, Darnold orchestrated three touchdown marches. Despite working with a shuffled offensive line throughout the summer including Saturday night as Alex Lewis, Tom Compton and Jonotthan Harrison started in place of Kelechi Osemele (pec strain), Brian Winters (shoulder) and Ryan Kalil at LG, RG and C respectively, Darnold completed 17-of-25 for 211 yards with no turnovers.
"Even for me sitting out in the second half, I kind of wanted to go in there and play. I definitely didn't like the way we played in the first quarter," he said. "In the second quarter, we kind of found our rhythm and figured it out. I'm definitely curious to see how we would've responded and how we would've played for the whole game. For me, personally, I'm definitely antsy to get going."