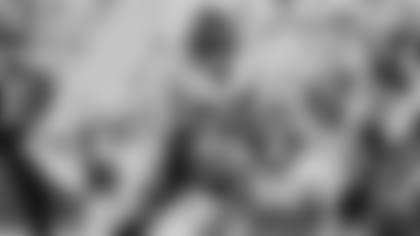 Le'Veon Bell isn't letting the Jets' 0-3 start to the season alter his confident perspective of his new team.
"I'm not frustrated at all. I know this team has a lot of talent, we just have to put it together," said the sixth-year running back after the Jets' 30-14 loss to the Patriots. "It's a new system, guys' first time playing together, a new coaching staff. We've just got to mesh everything together and we've got to get on board."
The Green and White's offense struggled early and often Sunday at Gillette Stadium, totaling just 105 net yards compared to the Patriots' 381. They managed only six first downs (two of which came by penalty) and went 0-of-12 on third down. The Patriots focused on limiting Bell and they swarmed to him every time he got the football, restricting the Green & White's top offensive weapon to 63 yards on 22 touches. Despite the lack of production, though, the Pro Bowl RB had a clear message for his team.
"I'm not going to stop believing in my guys. We can definitely make plays," Bell said. "We've got to clean up the negative things. We're hurting ourselves a lot. Give those guys credit, New England capitalized on all our mistakes, and that's why those guys are great. We've got to definitely get better and get in the lab and fix a lot of our mistakes that we're hurting ourselves on."
Through the first three games, Bell leads the team with 163 rushing yards, he is tied with WR Jamison Crowder for most receptions with 20 and he trails only Crowder (164) in receiving yards with 121. He also has the Jets' lone offensive touchdown of the season, which came in Week 1 against the Bills. The 6'1", 225-pound Michigan State product insists that the problem isn't the play calling, but instead lies in the lack of execution.
"I don't feel like we have been conservative, we just haven't been playing smart," said Bell. "We've been hurting ourselves and getting behind. There's not a lot of plays for third-and-18, third-and-20. We have got to just not hurt ourselves and we'll be better."
After a slow start and with nearly the first quarter of the season complete, the Green and White will have the opportunity to simmer down and recoup this coming week during the team's bye. The focus will be to find a solution for success moving forward.
"It's a team thing, it's not just the quarterback. Football is a game of three phases. It's offense, defense, and special teams right? I think the defense fought their tails off," said Bell. "Going against the type of players they're going against, they did everything they can do. Special teams made plays. Offensively we've got to get better. Regardless of if Sam [Darnold] is in the game or not we've got to protect him. We've still got to make plays on the outside. We've got to just clean up the little things and we'll be fine."