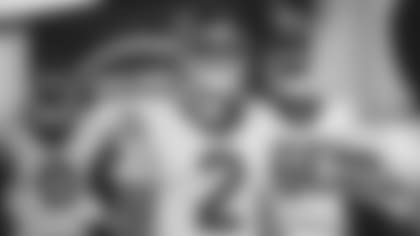 After the Jets confirmed QB Aaron Rodgers sustained a torn Achilles against the Bills and would miss the remainder of the season, head coach Robert Saleh reiterated to the media that third-year QB Zach Wilson would take over as the Jets' starter.
"I want to make it very clear — Zach is our quarterback," Saleh said. "We have a lot of faith in Zach, and we are really excited about this opportunity. We are rolling with Zach, and we are excited for him and this opportunity he is going to get."
Wilson, 24, replaced Rodgers Monday night in the first quarter and helped guide the Jets to a 22-16 OT win over the reigning AFC East Champions. Wilson completed 14-of-21 passes for 140 yards with 1 touchdown and 1 interception. The Jets overcame a 13-3 halftime deficit and Wilson delivered a back-shoulder throw to WR Garrett Wilson for a spectacular 3-yard touchdown grab.
"My job was to step up and be as efficient as I can," Wilson said. "There were a lot of emotions, Week 1, opening day. I've tried to learn from this guy but be ready to go. Stay calm and perform."
After the game, Saleh said Wilson would be the team's starter. On Tuesday, Saleh added that the team will elevate veteran QB Tim Boyle from the practice squad and would look to potentially add another signal-caller.
"The message I was trying to deliver is that we are going to look at everything. You are going to look at veterans, you are going to look at young guys," Saleh said. "But under no circumstance is any of this a competition. This is Zach's team, and we are rolling with Zach."
Since being drafted No. 2 overall in the 2019 NFL Draft, Wilson has started 22 games. Last season, he went 5-4 as a starter while throwing for 1,688 yards with 6 TDs and 7 INTs.
After general manager Joe Douglas and Co. acquired Rodgers in the April trade, Wilson moved to a backup spot behind the four-time NFL MVP. He handled second-team reps throughout camp and got a chance to learn the ropes from a future Hall of Famer.
"From a mental standpoint, [Wilson] is so much better than he was this time a year ago," Saleh said. "He is in a great frame of mind and is loving the game of football. He is loving the process that he is going through. He has a lot of confidence."
The BYU product played in all 4 preseason games (3 starts) and completed 37-of-56 passes for 365 yards with 1 touchdown. Saleh has seen a difference in both Wilson's play and the way he has carried himself in the locker room, which has him excited about the opportunity ahead for the young signal-caller.
"He has fixed a lot of things," Saleh said. "We very are excited about him. He will acknowledge he still has a lot of room to grow, and we are excited to do that with him."