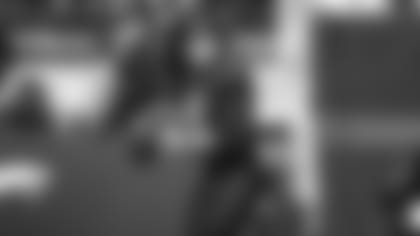 Head coach Robert Saleh made it clear on Monday: Zach Wilson is his -- and the Jets' -- quarterback.
"We are 5-3 because he's done a great job taking care of the football and getting us in position to win football games along with good defense, a good run game and good special teams," Saleh told reporters on Monday. "There's been a really good formula and so there's no reason why he can't continue that. And the guy's 4-1 coming back as a starter. He does have a lot to do with that, avoiding all the sacks, being able to throw away the ball, keeping us on track, keeping us on schedule.
"Yesterday was not a good game just from a decision-making standpoint. He did a lot of good things in the game, too. There were a lot of explosive plays [a 54-yard completion to rookie Garrett Wilson; and a 63-yard connection with Denzel Mims] that he had and a lot of good things."
Saleh continued: "But those three critical mistakes were backbreaking, which he recognizes. And those are the areas where let's hit the reset button. … Zach's a big part of the reason why we are in this position, why nobody would have had us at five wins at this point, and Zach's a big part of that."
On Sunday, the Jets threw the ball more (41 times) than they had in Wilson's four games since returning from a knee injury and ran it fewer times [15 rushes] in the team's first game without RB Breece Hall (ACL) and OL Alijah Vera-Tucker (triceps).
Sunday was also the first game QB Mike White was active with Wilson in the lineup. QB Joe Flacco, who started the first three games this season, was inactive.
"Let me try to explain this one, don't beat me up too much," Saleh said. "Mike [27] is one of the young guys on our football team. We've seen Joe. We know Joe. We love Joe. If Zach gets hurt, God forbid, Mike is going to get an opportunity and we need to know about Mike. Joe has had success, he's a veteran and won the Super Bowl. Mike's shown promise, he had success last year against Cincinnati and against Indy before he got hurt. We have to see what Mike has if the opportunity presents itself. Rather than keep him as a third inactive quarterback who knows he's not going to play, we wanted him to get second-team reps in practice and know that he's the next man up."
C.J. Mosley: 'We Found a Way to Lose the Game'
Sunday's loss to the visiting Patriots, in the view of linebacker and defensive captain C.J. Mosley, was the one that got away.
"I don't know, I was thinking about it, I don't really know the right word," he said on Monday. "I want to say we're disappointed or deflated. We know we just didn't make it simple. … We found a way to lose the game whether it was turnovers, whether it was field position, whether it was the defense not getting off the field on third down.
"So it was a collection of things. And the games that we won these past few weeks, we didn't do those things. [In the four-game winning streak] we got the ball. We didn't turn it over. We played good field position, made the extra points, made the field goals where we needed to do all those little things. Sticking to the details and this past game, we didn't do that."
There is no one who would deny that Mosley, an eight-year veteran, has been doing his part. And then some -- leading a Jets defense that after Week 8 is No. 6 in the NFL in yards per game allowed, No. 2 in rush yards allowed per play and No. 5 in passing yards allowed per play.
Against New England, Mosley had a season-high 13 tackles (his 82 tackles through Week 8 is a career high). He has 33 games with 10-plus tackles, which is tied for third-most among active NFL players. He is also working on an NFL-high streak of 23 games with 7 or more tackles.
Last season Mosley finished with a career-high 168 tackles.
Jordan Whitehead: 'Just Wrap Him Up'
The Jets opened the second half on Sunday with a flubbed kickoff and then a missed tackle on the Patriots' first play from scrimmage.
Braden Mann slipped on the kickoff, which only traveled 43 yards and was returned 16 yards by Jonnu Smith to the New England 38. On the next play, QB Mac Jones handed off to Rhamondre Stevenson, who slipped past Jets safety Jordan Whitehead and rambled 35 yards to the Jets' 27. The Patriots went on to score a TD and take a 13-10 lead, a lead they never relinquished.
"There were a lot of missed tackles on the team," Whitehead said on Monday. "But that one right there, for me to do as well for me, I would say I stop that one. Now, they don't get that momentum on that first drive. We put the fire out, but it kind of gave them some life. So that's definitely ... I take that personal and that's something I could clean up and fix easily.
"Just wrap him up, it's simple."
Like several of his teammates, Whitehead said that the Jets missed an opportunity to defeat an AFC East rival and end a 12-game losing streak against the Pats.
"We let one slip away," he said. "We were just talking about how like each week anybody could win. We got one early in the season against the Browns on the other end of the stick. They let one slip away and we let one slip. So it's the NFL. We are 5-3, sitting good and have a lot of games left."