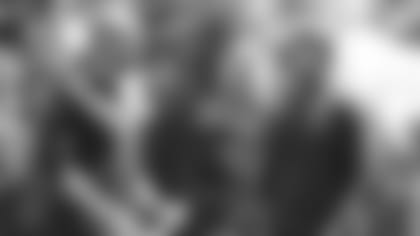 The HBO Documentary series "Hard Knocks" made its debut last week a night after a terrific Monday night open to One Jets Drive. Hard Knocks, narrated by actor Liev Schreiber, also drew rave reviews from folks inside and outside the Atlantic Health Jets Training Center.
And although much of the spotlight was consumed by four-time NFL MVP and new Jets quarterback Aaron Rodgers, head coach Robert Saleh made the most of his turn throughout the show. His 110-second auditorium presentation to his players was particularly impactful. 
"OK, you can take your pens out for this one," Saleh said. "This is a life lesson for everybody. For everybody."
What came next was Saleh at his best, spinning a parable with a striking moral. He's a storyteller and a leader of men.
"Three nights ago, I was in deep thought, deep thought, deep thought ... and I was thinking about you guys and all the excitement surrounding us, all of it," he said. "Did you know that the only bird, the only bird in the world that will attack an eagle is a crow? It's a crow, that's actually the only bird that will have the balls to attack an eagle."
As the words poured out, the "Hard Knocks" cameras cut to shots of wide-eyed players smiling.
"It will perch on the eagle's back and peck on its neck. So rather than fight back and tearing the crow to pieces like it can, the eagle spreads its wings and soars as high as it possibly can," Saleh said. "And the higher the eagle flies, the harder it is for the crow to breathe. Eventually the crow suffocates, falls back to earth and dies. That's what happens."
After a quick cut to a view of Rodgers, Saleh continues: "We've got a great deal of hype around us, we really do. All kinds of expectations. And with great expectations we know that there's going to be a whole lot of people, a whole lot of crows expecting us to fall on our face. What are you doing to find that little bit more to get us closer to being that great f*ing team? ... And if we challenge ourselves to do a little bit more every day, the crows will fall by themselves. ... Embrace that we're not the Same Old Jets."
Garrett Wilson Headed to Pro Bowl: Bill Barnwell
One of last season's top rookies, Garrett Wilson, has already hit the ground running in training camp, drawing comparisons to Davante Adams from former Green Bay QB Aaron Rodgers. In his "Breakout Players of 2023," Bill Barnwell of ESPN.com includes Wilson on his list.
"Here's a good example for this tier. Wilson was named Offensive Rookie of the Year after he had 83 catches for 1,103 yards and 4 touchdowns, but he couldn't crack a Pro Bowl roster," Barnwell said.
He continued: "Wilson's case was his quarterbacks: He came in around 2.0 yards per route run in an offense with Zach Wilson, Mike White, Joe Flacco and Chris Streveler at quarterback. Now he'll have Aaron Rodgers. … The upside case for him is obvious."
Jets' Preseason, Game 2
Eric Edholm, the lead draft writer at NFL.com, pinpoints what he expects from each of the league's teams as they all begin their preseasons -- and as the Jets get second for their second game, at Carolina on Saturday afternoon.
"With all signs pointing toward Aaron Rodgers sitting out Saturday's game against the Panthers, our attention shifts to the defensive side of the ball," he writes. "The Jets gave us a brief preview of their deep well of pass rushers in the Hall of Fame game, but we could see even more in Charlotte.
"Jermaine Johnson II, Bryce Huff, Micheal Clemons and 2023 first-rounder Will McDonald IV all could see snaps against No. 1 overall pick, Bryce Young, who is a creator against the rush. Also keep an eye peeled for 25-year-old undrafted DE Deslin Alexandre, who is a real grinder."
Good Vibes in Florham Park
Team reporter Caroline Hendershot spent a few minutes with New Jersey native Peter Schrager of Fox Sports and NFL Network at 1 Jets Drive last week. It was his first time at camp in Florham Park, his latest venue for scoping out the Green & White.
"As the kids say, the vibes are immaculate," he said. "It's unreal. [Aaron] Rodgers came out, and you guys have seen this for eight days now, and this is cool. And then to watch all the different players come out, the fans are so pumped out here. I got to tell you, I've been covering the Jets at Hofstra and Cortland, here I don't remember a practice with the vibes like this from the fans and the players are into it, too."