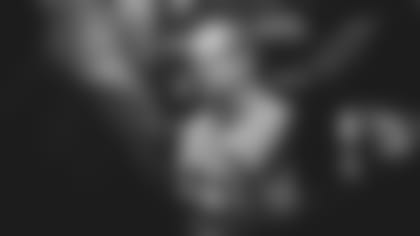 It's been a long couple of days for Jets general manager Mike Maccagnan.
On Sunday came a difficult loss in New England followed by the firing of head coach Todd Bowles. Today and beyond will be longer in a different way as Maccagnan and owner Christopher Johnson will interview and hire the next head coach to lead the Jets to where "Mac and Todd" wanted to get them when they took over the team's football operation together almost four years ago.
What are the traits Maccagnan is looking for now that the process for finding the 19th head coach of the Jets has already begun?
"It's going to be leadership, vision, the ability to communicate," he told reporters at a news conference in the Atlantic Health Jets Training Center boardroom this afternoon. "But as we go through this process, I don't think we're going to pencil ourselves into one side or the other side of the ball. We'll keep all options open. But we do feel we have a good plan in place. There are definitely some people we want to talk to."
And in trying to locate that perfect match, Maccagnan feels the Jets offer a strong landing spot.
"I think our job is going to be pretty attractive," he said, "with the way the roster is situated, with the salary cap space, with our draft picks, and with a young quarterback in Sam Darnold."
Darnold, the third overall selection in last year's draft who showed great promise in 13 starts in his just-completed rookie season, figures prominently in the new hire. The GM said his QB won't be making the decision on the coach, but on the other hand ...
"I would think, given the opportunity, I would like the potential head coaches that come through here to have a chance to spend a little time with him just so they get a feel for Sam," he said. "We definitely want to make sure they have a plan in place to develop our young quarterback."
Among the other players on his roster who he thinks will be appealing for the new field general is Jamal Adams, who after the Patriots game made some strong statements about what the Jets need to do to move up in NFL class.
And Maccagnan, who said he had "a long conversation" with Adams today, finds himself in agreement on many things his second-year Pro Bowl safety had to say.
"I think Jamal is very passionate," he said. "I also think after talking to him that we share the same vison and the same goal. ... Hey, we're both on the same page going forward. If anything, I feel both of us, our focus is the same — to try to build a winning, championship team here."
That was the goal for Maccagnan and Bowles for four years.
"I really enjoyed working with Todd. I had a really good relationship with him," Maccagnan said. "It's a hard process and it's part of our business. We understand it's a transient business to a certain degree. But that was a hard day. Obviously we both came in together and we both wanted to have success together and it didn't work out."
Maccagnan admitted candidly that he has to "do a better job in certain areas" himself but the plan to work out now, but he was confident about the road ahead.
"As an organization, we came up short in a lot of games," he said. "As we go forward, we're going to look to figure out every which way possible, be it the head coach and any other roster moves we make in the offseason, to try to improve upon that."