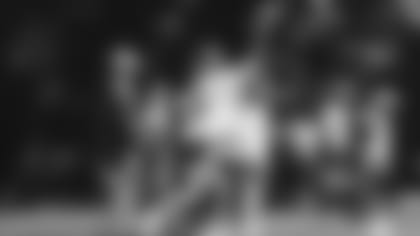 In Luke Falk's first NFL start, he'll be squaring off against arguably the best quarterback in NFL history, arguably the best head coach in NFL history, the defending Super Bowl champs, who have outscored their opponents 76-3 in the first two weeks of the 2019 season, and the league's No. 1 defense. All of this taking place less than a week from when Falk was promoted from the Jets' practice squad hours before taking on the Browns Monday night.
So how is Falk keeping his cool?
"You have to realize it's just football," he said. "I've been playing this sport for a long time. Obviously not at this level, but you've got to to keep simple things simple, go out and execute the game plan and put the ball in play. Ultimately, you have to focus on the small things, not get too wrapped up in the whole big picture."
Coincidentally, the second-year Washington State product and Pats QB Tom Brady, the six-time Super Bowl champion, four-time Super Bowl MVP, three-time NFL MVP and 14-time Pro Bowler, do have some things in common —they're both 6'4", started their first NFL game at 24 years old in Week 3 (Brady in 2001), and both faced a future Hall of Famer in their first start (Brady squared off against Peyton Manning and the Patriots won 44-13).
As if that's not eerie enough, they were both selected No. 199 overall.
"Yeah it was kind of weird. I got my phone and I saw the Titans were pick 199 and I got a call from Tennessee around 196 and I was like 'No way.' It was pretty cool. I was just happy I got drafted," said Falk, who later added about facing the quarterback he admired growing up, "It's pretty cool. You're playing against one of your idols, but I'll be facing the defense, not playing against him. I just have to go out there, execute the game plan and do the best I can to help my team win."
While I'm not suggesting Falk's career path will be similar to Brady's, both Adam Gase and offensive coordinator Dowell Loggains believe Falk will run a smooth operation in Foxboro this Sunday.
Against the Browns, the 6'4", 215-pounder completed 20 of his 25 passes for 198 yards, which followed a strong preseason performance when he converted on 80.6% of his passes for 230 yards and two scores. He also has more experience in Gase's offense than Sam Darnold and Trevor Siemian since Falk spent time with the Dolphins last season, which he describes as a "redshirt year."
"I think that helped and helped me last time I was out there playing," Falk said. "I think playing is the ultimate way to get the ultimate feel and it's been good this week to get those reps. I'm looking forward to Sunday."
Because of Falk's knowledge of the system, the Green & White won't hold anything back from the playbook.
"The advantage you have with a quarterback that knows the system is you don't have to step back and try to reevaluate, you can keep pushing forward with the things that he does well," Loggains said. "He has really good command, he's an accurate passer, he knows how to get us in and out of the right plays.
"He's prepared the right way and we're going to continue that tomorrow and get ready to play a big game this week."
See Top Photos from the Practice Field Leading Up to the First Road Game of 2019