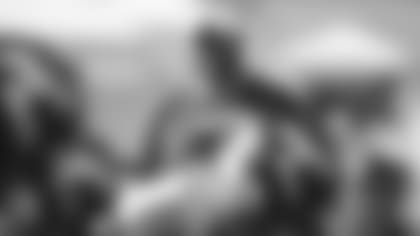 Jets general manager Joe Douglas has a shorthand phrase for what he, his staff and the Jets have been doing during the past month in conducting team business in the middle of the coronavirus epidemic.
"We've all had to 'A&I,' right?" Douglas told Jets reporters on a conference call this afternoon. "Adjust and improvise."
Douglas could've come up with another ampersand construction for what he and his staff have been doing regarding now third-year quarterback Sam Darnold. Call it P&P.
"When I first met Sam's parents in the first preseason game [last August], I promised them I was going to do everything in my power to take care of Sam with protection and playmakers," he recalled.
Douglas addressed the P&P that the Jets have already undergone in the first two weeks of unrestricted free agency signings. There could be more signings to come and of course the draft still resides in the last week of this new month, but the GM said he feels "good about the football instincts, the versatility, the toughness that we brought into that group" on his offensive line.
George Fant, about whom Douglas said, "I'm excited about his athleticism. I think he's going to be a good fit into our scheme. The things he can do, his lateral quickness, he's going to have a great opportunity to come in and compete for a starting spot."
Connor McGovern: "He's smart, athletic, can play center and guard."
Greg Van Roten: "He started a lot of games in Carolina. Another guy that's smart, he's been durable, he's been versatile."
And Alex Lewis, who was re-signed: "He brings that element of toughness, a nasty mental mentality that every good offensive line needs."
Asked separately about returning eighth-year guard Brian Winters, the GM replied, "We love his competitiveness, his toughness. And we should have a really good competition for our starting offensive line."
Darnold's playmakers group also remains a work in progress. The Jets lost Robby Anderson to the Panthers in free agency but replaced him with Breshad Perriman, whom he was quite familiar with.
"That was my last draft in Baltimore before leaving for Chicago," Douglas said about scouting Perriman, who was taken by the Ravens 26th overall in the 2015 draft. "He has a unique size/speed combo. Obviously his career trajectory was different than most first-rounders, but I think you've seen in the back half of two years ago with Cleveland and then at the end of this year [with Tampa Bay], you'd be hard-pressed to find a wide receiver that had better numbers than Breshad."
Here's one more way to demonstrate the truth of that analysis. If we take a slightly unusual time frame, from Week 14 of 2018 through the end of last year, 20 games for all teams, then 78 NFL wideouts have at least 40 receptions. And only two have averaged 20 yards/catch in that span: Tennessee rookie WR A.J. Brown (20.2) and Perriman (20.0).
The A&I in acquiring P&P for SD is not over. The GM gave no hints about where the Jets will go with their eight picks this year, their first four coming in the event's first 79 picks. But the wideout and offensive line classes have been said to be brimming with talent this year.
All Douglas promised is that Darnold's needs to succeed in 2020 and beyond won't be ignored.
"Our focus is doing everything we can to help Sam succeed. The one thing we didn't want was a situation where Sam was just going to have to be under fire all the time with protection issues," he said. "We're going to keep it simple with guys that are smart, tough and versatile. We're going to keep addressing that moving forward and we're going to keep addressing playmakers moving forward."