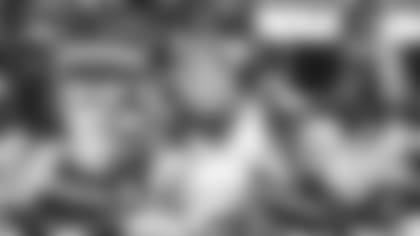 Playing host to the defending NFC champion from the City of Brotherly Love, the Jets pair of brothers – Quinnen and Quincy Williams – each forced a turnover and led a four-takeaway performance by the Green & White defense in their Week 6 victory, 20-14, over the previously unbeaten Eagles.
The biggest takeaway of the Sunday late-afternoon win came after the two-minute warning with the Jets trailing by 14-12. On third down, S Tony Adams stepped in front of pass from QB Jalen Hurts intended for TE Dallas Goedert for his first-career interception and returned it 46 yards to the Eagles' 8-yard line. The next play, RB Breece Hall ran the ball in for the game-winning touchdown, the offense's first of the game.
"Right on time. He's been great," HC Robert Saleh said of Adams. "You have to remember that he's young. He's a second-year player. As excited as we are about him, we know he's going to have some ups and downs. The ups are going to continue to become more and more frequent. He's a freak athlete."
The Jets forced two fourth-quarter turnovers including one with 14 minutes remaining with the Eagles ahead by 2 points. Pass rusher Jermaine Johnson bull rushed Eagles right tackle Jack Driscoll, who replaced Lane Johnson (ankle) in the first quarter, and hit Hurts' arm on the pass that was intercepted by CB Bryce Hall.
The Jets played without three of their top four corners – D.J. Reed (concussion), Sauce Gardner (concussion) and Brandin Echols (hamstring) – so Hall, who also had 2 pass defenses and 3 tackles, started his second consecutive game. CB Craig James and CB Tae Hayes were elevated from the practice squad Saturday and played Sunday.
"[Bryce] is so smart on the football field," Saleh said. "He is managing the back end and making sure we were aligned the way we needed to be every play. He's awesome. He's such a good dude.
"I thought Craig James was fearless. He had a huge pass breakup in the end zone. Had a couple of nice tackles. Tae Hayes has only been here a couple of weeks [and has] to learn our system, which is complicated from a zone standpoint. It's not like you're coming out here playing man. He has to learn it all. Kudos to that group."
Quinnen Williams, the Jets All-Pro defensive lineman started the takeaway party in the second quarter. With 10:33 left, Johnson dropped back in coverage and had his second of three pass defenses when he hit Goedert. The ball popped up and fell into the hands of Quinnen Williams for his first-career pick.
"We just got out there and played our game," Quinnen Williams said. "We followed our scheme and our laws and played how we usually play. We placed an emphasis on executing and trying to figure how to start fast in these games."
Then , with less than two minutes remaining in the first half, Hurts flipped a short pass to RB D'Andre Swift, who was immediately met by LB C.J. Mosley. Mosley, a southpaw, punched the ball loose that Quincy Williams eventually recovered after he almost didn't corral it.
With their grandmother in attendance, the Williams brothers became the second pair of brothers in the last 30 years to each have a takeaway in the same game. They joined E.J. and Erin Henderson of the Vikings in Week 2 of 2010. They each had a fumble recovery.
"She is going to critique us, so I feel like we always play well when she is here," Quinnen Williams said. "She is our hardest critique ever, so I am sure she has got something for us."
Overall, the Jets held the Eagles to a season low in points and rush yards (80) , and forced the Philadelphia offense into its highest turnover total this season. The four takeaways led to 10 of the Jets 20 points.
"At the end of the day, this team didn't flinch," Mosley said. "We knew what type of team was coming in this week and we knew the problems that might occur with new guys starting. but this team is really close and the people that come to work always treat their body like they are starters."
See postgame photos from Sunday's 20-14 victory over the Philadelphia Eagles.