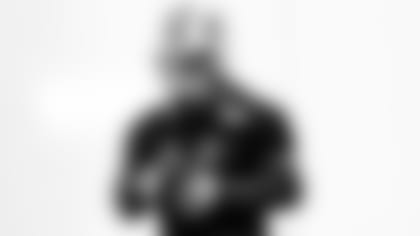 Darnold Watch
Rookie quarterback Sam Darnold did not practice the previous three weeks and it's been almost a month since he strained his right foot during a 13-6 loss to the Dolphins on Nov. 4. He was a gameday inactive for the Jets' losses to the Bills and the Patriots in Weeks 10 and 12, and he had a week of rest sandwiched in-between with a bye.
Last week, he suited up for practice but never took any reps. By all accounts, Darnold is progressing and he feels strong. He looked good Wednesday, going through the paces in individual drills and unloading a perfect 50-yard toss to Jermaine Kearse against air. Is a return on the horizon?
"I think for a young guy who understands that every time he's on the field, every rep counts and it's important — he absolutely is ready to be back out there," said veteran Josh McCown, who has started the Green & White's last two games. "But I also know he'll be smart and listen to the trainers and what they have to say and like I said, 'We'll see how it goes.'"
The Complete Safety
Even in the darkest of times, second-year safety Jamal Adams continually provides light. He was outstanding last Sunday against the Patriots, totaling 10 tackles (seven solo) and three pass defenses while often matching up with arguably the greatest tight of all-time in Rob Gronkowski.
Adams, who leads all safeties in tackles for loss (eight) and pass defenses (12), has been eager to prove that he is more than just a box safety.
"This was something that I had circled on my calendar was going against Gronk," he said during his weekly appearance on WFAN. "I just want people to understand and put respect on my name. That's just how I felt when I went out there. I felt I was the best and I felt very confident in my ability to cover and I went out there and I executed."
During his latest postgame news conference, Adams was asked what he would tell a hungry a Jets fan base.
"Stick with us man. Obviously, they're hurting," he said of his team's five-game slide that has left New York's AFC representative with a 3-8 mark. "We get a lot of negative comments and we understand it. I get it. I get the frustration, but at the end of the day we are hurting twice as much as you. So, just stick in there with us and we are going to figure it out."
Herndon Head of His Class
Chris Herndon, a fourth-round pick from Miami, leads all rookie tight ends in catches (26) and his 314 receiving yards rank second amongst first-year players at his position. Last Sunday, the 6'4", 253-pound Miami product set a career-high with seven receptions as he saw action in 80% of the offensive plays.
"Each week he gets better," McCown said. "And that is huge for these rookies, especially moving forward. I'm just proud of him and it is reflective of how he works. The guy comes in every single day, is serious about his job, detailed about his job, and then it shows up when he steps out onto the field on Sunday. That's exciting for his future and he is laying a great groundwork for himself of how he is going to have a long professional career because of how he approaches his job."
The Same Page
After four seasons with the Titans, Avery Williamson joined the Jets in the spring. This will be homecoming for the Jets inside linebacker, who attended Milan High School in Tennessee. Over his last three games, Williamson's 33 tackles are tied for most in the league according to Radar 360. He and Rams linebacker Cory Littleton are the only defensive players this season who have registered at least 85 tackles, 3.0 sacks, four pass defenses and six tackles for loss.
But Williamson and the Jets surrendered more than 200 yards on the ground to both the Bills and the Patriots. After the Pats rushed for 215 and averaged 6.0 yards per carry, the 26-year-old Williamson said it was "disheartening" that the Green & White had played that sloppy and weren't communicating well enough.
"It's not being in the right gaps and communication issues, not being on the same page," said Williamson, who also added that not all the defenders were able to hear some of his play calls.
Nashville Blues
The Jets won't be the only club in Nashville Sunday searching for some feel goods. The Titans started 3-1, but they've dropped five of their last seven games and were pounded by two division rivals — the Colts and the Texans — by a 72-27 count in Weeks 11 and 12. 
"I mean we're not thinking about the Wild Card right," said Titans S Kevin Byard after the Titans surrendered 281 yards on the ground in a 34-17 loss to Houston Monday night. "Now we're thinking about Wednesday honestly. Getting back in the building, watch the film, getting better and the only thing we can think about is the Jets right now. We can't think about no playoffs, no nothing, anything about health. The only thing in front of us is the New York Jets."