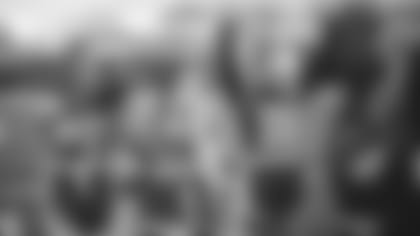 This is one in a series of articles that will also appear in the New York Jets 2023 Yearbook, which will be published later this summer.
The New York Jets, Nike and Gatorade kicked off their third season of the High School Girls Flag Football League this year. The league, which started with eight high schools in 2021, has expanded to more than 100 high schools and 1,500 athletes throughout New Jersey, Long Island and the Hudson Valley in 2023.
"The expansion to over 100 teams in the tri-state area shows it's not just that it's girls that want to play flag football," said Jesse Linder, Jets vice president of community relations. "it's schools, parents, communities embracing the sport, wanting to grow the sport, but also grow opportunities in general for women to participate in sport. There is about a 1 million-participant gap between boys who play high school sports and girls who play high school sports. I think everyone's seeing that, when given the opportunity, that gap can close."
Not only did the Jets provide this opportunity to young women across the tri-state area, they also provided the same opportunity in the United Kingdom. In March, the New York Jets and the Chicago Bears launched the inaugural Jets and Bears NFL Girls Flag League for girls ages 12-14 — the first UK all-girls competition of its kind. The league concluded in late May with Ealing Fields, from the Jets' conference, defeating Bears finalist Beaconsfield, 38-12.
"With the United Kingdom being the Jets' international home market, we wanted to make sure that we treated it like we would our domestic market and bring opportunities to the residents and constituents of London and England," Linder said. "We created, with the Bears, a girls flag league for secondary schools, with 12 teams competing."
While the league continues to grow, the Jets have pushed to have girls flag football adopted as a varsity sport in New York and New Jersey. It was recently approved as a championship sport in New York, and New Jersey will vote to make it a pilot sport later in the year.
"In New York State, beginning spring of 2024, the state high school athletic association will officially take over administering the sport to the schools, creating regional championships and ultimately a state championship," Linder said. "In New Jersey, we are progressing in that direction. There will be a vote to make it a piloted sport in spring of 2024, which follows the same track that girls ice hockey and wrestling followed in New Jersey."