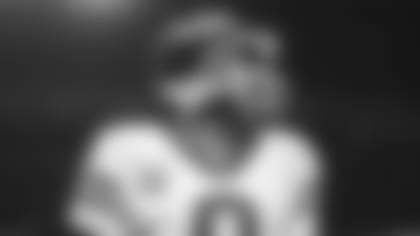 Jets QB Aaron Rodgers sustained a torn Achilles Monday night against the Bills and will miss the remainder of the 2023 season. The Jets placed Rodgers on injured reserve Tuesday.
Rodgers, who made his first start with the Green & White after an 18-year run in Green Bay, was sacked by Buffalo edge rusher Leonard Floyd on his fourth offensive snap/third offensive play. He initially got up and then crumpled to the ground before being helped to the blue medical tent by trainers. Rodgers was then carted off to the locker room and was ruled out of action. After the game, HC Robert Saleh feared the worst.
"I feel more for Aaron than anyone," he said of Rodgers. "He's invested so much into this organization, so much into this journey he's embarked on and wanting to be a part of what we have going here and how much he's invested into not only this organization, but his teammates, himself, this fanbase, this city. I have a lot of emotions for him."
Rodgers, the four-time NFL MVP, was acquired from the Packers in a late April trade that involved multiple draft picks being exchanged. With Rodgers out the rest of the season, the Packers will obtain the Jets' second-round pick in 2024 that would have become a first-rounder had Rodgers played in 65% of the plays this season. In the days leading up to the season, Rodgers spoke about how much he had embraced his new surroundings.
"This has felt like waking up inside of a dream, this whole experience," Rodgers said. "A beautiful dream. You have a great dream, and you wake up and just want to get back into that, but you can't quite. I have woken up inside of that dream and it has been really special. There are a lot of times where I am like, this is really my life, how cool is this."
Without Rodgers, the Jets showed their resolve in the second half as they erased a 10-point halftime deficit and forced overtime. Xavier Gipson, a rookie undrafted free agent from Stephen A. Austin, returned a punt 65 yards in overtime and the Jets captured a thrilling 22-16 decision. But the Jets lost their starting quarterback in the process and Saleh expressed his feelings about the injury after the victory.
"That part sucks," Saleh said. "I'm going to enjoy this win. Winning in the NFL is hard regardless of who the quarterback is. Personally, I don't hurt for me. I don't hurt for our locker room. I hurt for Aaron and how much he has invested in all of this. I'm still going to say a prayer. I'm still going to hold out hope, but my heart is with Aaron right now and no one else."
Zach Wilson, who completed 67% of his passes against the Bills including a 3-yard TD to Garrett Wilson, will makes his 23rd career start Sunday for the Jets against the Cowboys in Dallas.