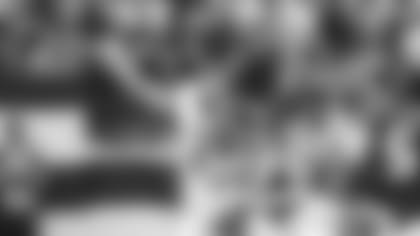 An injured Aaron Rodgers was in the house on Sunday night, but it was Jets quarterback Zach Wilson who brought his "A" game to MetLife Stadium.
After the Jets spotted the Kansas City Chiefs 17 points after the first 15 minutes, the Green & White came roaring back in a superlative second quarter. And it was a cool and calm Wilson who willed the Jets back into a game that seemed to be prematurely slipping away.
As strong a second quarter and game as Wilson put together, hitting on 28-of-39 passes for 245 yards and 2 TDs, it was a crucial fourth-quarter miscue that the Jets' third-year quarterback said cost his team an opportunity to take the lead, and eventually the game.
KC took a 3-point lead, 23-20, on Harrison Butker's 26-yard field goal midway early in the fourth quarter. Wilson and the Jets went right to work -- he connected with Garrett Wilson (who was targeted 14 times and had 9 catches for 60 yards) for passes of 4 and 8 yards, then hit TE C.J. Uzomah for 13 yards at the 50-yard line. After Dalvin Cook's 1-yard gain, Z.Wilson took his eye off the snap from center Connor McGovern and fumbled, which was recovered by the Chiefs with 7:45 left in the game. 
That turned out to be the final time the Jets' offense was on the field.
"It's on me," Z.Wilson said after the game. "In a critical situation I can't have a play like that. I cannot drop the ball. The team is sacrificing a lot, the defense is making plays, the receivers are making plays. To be driving and to drop a snap ... I can't do that. I lost us the game. I need to be better on the little details. It can't happen.
"We had the ball at midfield and had a chance right there."
There may not be moral victories in the NFL, but Z.Wilson and the Jets (1-3) put up a heck of a fight against the defending Super Bowl champions, but ultimately dropped their third-straight game before heading to Denver to face the Broncos next week.
"I thought Zach, he was really good, he gave us a chance to win," head coach Robert Saleh said. "He brought us back and if he plays like that we're going to win a lot of football games."
The Jets chipped away at the KC 17-point lead, getting a safety after Bryce Huff's face mask was grabbed in the end zone and Greg Zuerlein connected on a 31-yard field-goal attempt.
With the pressure on not only Z.Wilson, but the entire team after last week's loss to New England, the guy who took over when Rodgers tore his Achilles tendon in the regular-season opener was able to cobble together a second quarter in which he hit on 13-of-19 passes for 135 yards and a 1-yard TD pass to C.J. Uzomah.
"I felt like Hack [offensive coordinator Nathaniel Hackett] did an unbelievable job today mixing it up and spreading the ball around," Z.Wilson said. "I was seeing it really well. We need to keep building and I need to be better on the details. It's the little things that win games, and you need to do them to be great.
"I think Hack trusted me better. Still, I need to be better for him. We need to keep growing on this and that's the mindset for me on every single play.
After Huff's safety, Z.Wilson drove the Jets 82 yards in 7 plays to set up Zuerlein's successful field-goal attempt. On the next series, Ashtyn Davis intercepted a Patrick Mahomes pass and the Jets were in business at the KC 42-yard line. It took Z.Wilson and the Jets 7 plays to get in the end zone and eventually closed out the first half down 8 points, 20-12.
The Jets drew even at 20-20 with 4:20 left in the third quarter when Z.Wilson found with Allen Lazard on a third-and-6 play, capping a 75-yard, 7-play drive to open the second half. Z.Wilson scrambled over the goal line to add the 2-point conversion.
With under five minutes to play, Michael Carter II's apparent interception of Mahomes was nullified by a (perhaps dubious) defensive holding call on Sauce Gardner. Saleh was livid by the call, and said he was convinced the Jets would have driven for the game-winning score had the play not been overturned.
He wouldn't speak to the flag, but said: "I would have loved to have seen if he [Z.Wilson] would have been able to take us down for the TD. I think he would have. I'm sure he's beating himself up over a play or two, but there's nothing to be ashamed of.
"You can always take positives out of any situation, no moral victories, but I would have liked to see if we could have pulled that out."
After playing a clean and heady game, that single miscue spoiled the night for Z.Wilson and the Jets.
"We've been pushing," Z.Wilson said. "We've had a tough start to the year, but we stick together. I let the guys down, but I know they have my back, of course they're going to say that. But when you play as good a team as that, it comes down to the little things."