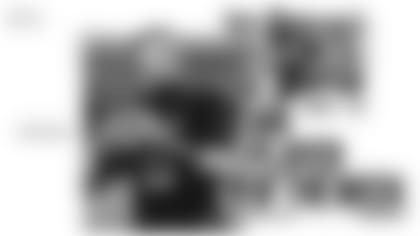 Jets QB Mike White has been named the NFL's FedEx Air Player of the Week after leading the Green & White to a 31-10 win over the Bears in Week 12.
In his first start of the 2022 season, White threw for 315 yards and 3 touchdowns while completing 78.6% of his passes (22 of 28). His 149.3 passer rating on Sunday against the Bears was the fifth-best by a Jets starting QB with at least 20 pass attempts in franchise history, and second-best at home. He became the fourth Jets quarterback since 1970 with multiple games of 300 passing yards and 3 touchdowns, joining Ken O'Brien, Joe Namath (5) and Richard Todd (5).
"He is really good at doing his job," HC Robert Saleh said Sunday. "He gets rid of the ball, he gets it to where it needs to get to. I thought our O-Line did a good job protecting him. When he needed to be aggressive, he was aggressive. Any time you have success, there is reinforcement. I don't think there's a guy in the locker room who didn't think he would be able to perform today."
White, who was drafted by the Cowboys in the fifth round out of Western Kentucky in 2018, has totaled 1,268 passing yards and 8 touchdowns while completing 68.75% of his passes in five career games. He's the only player in NFL history to record those numbers or better in their first five games played.
"Personally, the way I approach the quarterback position is being a calming presence in the huddle, especially when things aren't going well because that's when things can start to spiral and snowball," White said after the game. "It's just distributing the ball and letting them be who they are. They're all in that locker room for a reason. This is the NFL. Everybody that wears pads on Sundays are very good and you've just got to get them the ball and get their confidence going and once someone's confidence is up, I believe, at least, that you'll see their game go to the next level."
Of the 59 performances of 300-plus yards and 3-plus touchdown passes in a player's first five career starts, White has the last two (Week 8 vs. CIN in 2021). He joins Patrick Mahomes, Austin Davis, Kirk Cousins, Aaron Rodgers, Kurt Warner and Mark Rypien as the only seven quarterbacks with at least two such performances in their first five starts.
"I think he's a baller, obviously," TE Tyler Conklin said. "I just really appreciate the way he works. He's an even kid, never gets too high, never gets too low. I just think that's huge for a quarterback. In football, there's so many ups and downs. We all have good plays, we all have bad plays. I think that was a huge thing for him [Sunday], just the way he keeps chopping wood and doesn't let his emotions get the best of him. We all know he can play ball."