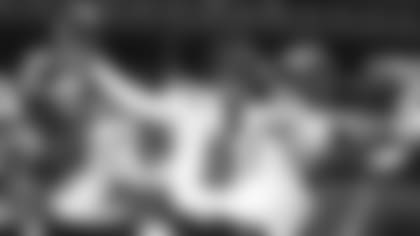 No one could have asked for more from Josh Johnson in a tough situation on Thursday night against the Indianapolis Colts.
The Jets' third-string quarterback was pressed into duty early in the 45-30 loss when Mike White, the star of last Sunday's win against Cincinnati, went down with an arm injury and did not return to the game.
"My reaction was twofold," Johnson, a 13-year NFL veteran said after the game. "You feel for your teammate, your brother, a guy you're close to. You wait for your opportunity and try to take advantage of it. I feel it being a backup quarterback. The second part is that you have to go and lead the offense. For me, even after Year 13, you get butterflies, but you have to settle in and find a way to get to it as soon as possible."
Johnson acquitted himself well, completing 27-of-41 passes for 317 yards and a career-high 3 TDs, one of them to rookie wide receiver Elijah Moore, the others to Ty Johnson and Ryan Griffin. Moore, off a rushing TD last week, grabbed 7 passes for 84 yards.
"Josh, I thought he did an awesome job," head coach Robert Saleh said. "He ran the offense the way it should be run. He hit receivers and moved the chains. They [the 4-5 Colts] didn't pull off the gas late. They had their starters in there and were in normal coverages, they were blitzing and playing man. No D-coordinator wants to give up yards. The offense was fantastic."
Johnson, 35, has been with 13 franchises, and before a brief, one-series stint against the Bengals, had only appeared in regular-season games for four teams -- Tampa Bay, Cleveland, Cincinnati and Washington. Over his long career he had played in 33 games with eight starts (four with Tampa Bay in 2009, three with Washington in 2018). Before Thursday's game he had completed 148-of-268 passes (55.2%) for 1,632 yards, 8 TDs and 14 INTs.
After falling behind, 7-0, White, the AFC's Player of the Week for his play against the Bengals, drove the Jets down the field hitting consecutive passes to Moore, the second a 19-yard TD pass. On the play, White injured his right forearm and did not return. Saleh said that White felt numbness in the arm that dissipated late in the fourth quarter.
"I felt it on the touchdown throw to Elijah," White said. "My arm almost locked up on me, my two middle fingers went numb and I couldn't aggressively grasp the ball and help the team. We tried different things, heat, I threw a bit at halftime. It got better throughout the game, it feels better now, but I couldn't get enough effectiveness, grip and power to help the team."
White, who started the season as Zach Wilson's backup, came on against the Patriots when Wilson sustained a PCL sprain. In parts of two games and one full outing, White hit on 64-of-88 (72.7%) passes for 702 yards with 5 TDs and 4 INTs.
The Colts built a 28-10 lead at halftime against the Jets (2-6, 0-5 away from MetLife Stadium) and extended it to 35-10 and then 42-10. The Jets, looking up at a big hill, kept battling and kept fighting with Johnson under center chasing the game.
"My whole career has been a whirlwind, I've gotten used to it," Johnson said, speaking about his career as a much-traveled backup. "You have to prepare yourself for it. Go out and show the team they can rely on me. Unfortunately we didn't do enough.
"We [backups] don't get a lot of reps. I was throwing to guys I haven't thrown to, taking snaps from [center] Connor [McGovern] who I haven't taken them from."
He added: "I think it was a tough situation early. I'd like to do some things different, I missed some reads. Most guys haven't been in the huddle with me, only a couple have ever played with me. I just settled down and just showed guys I wouldn't blink. I had to get in a rhythm, and once we did we were able to do some positive things."
In addition to the TD passes to Moore, Griffin and Ty Johnson, Josh Johnson completed passes to 11 different receivers as the Jets amassed 486 yards of offense. The scoring toss to Griffin marked his second career 2-TD game -- the first coming for Tampa Bay at Philadelphia in 2009.
"Josh did an awesome job in a tough spot," White said. "He went in there and fought his tail off. All our guys did. It's encouraging to watch. It's tough trying to win a game when they go that way. You can either can it and go to next week or keep fighting ... and our guys kept fighting."
See Best Images from the Game at Lucas Oil Stadium